Council fraud cost £178m last year - Audit Commission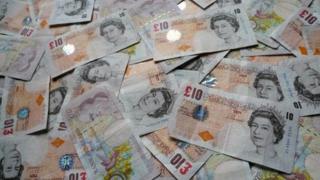 Councils in England uncovered 107,000 cases of fraud worth a total of £178m last year, a report by the public sector spending watchdog suggests.
The Audit Commission said more than three-quarters of the cases had been detected by just a quarter of councils.
It added that this raised questions about efforts to root out fraud by some local authorities.
Overall, the number of fraud instances fell 14% from the previous year but the average amount of cash involved rose.
The government said councils needed to "go further" to root out corruption.
The commission's annual survey, for 2012-13, found housing benefit and council tax benefit fraud accounted for £120m.
Patchy nature
Some 79 district councils found no corruption at all, while 76% of instances were reported by just 25% of councils.
The total number of frauds detected was down 14% on the previous year, but the cash involved fell by just 1%. This meant the average loss from each case rose by 15% to £1,664.
Commission chairman Jeremy Newman questioned the patchy nature of detection across England.
He said: "If the other 75% councils had found as much, we would see much higher overall rates of fraud detection.
"Not to detect a single case of non-benefit fraud does raise concerns about the priorities and resources in those councils to tackle fraud.
"I would urge all councils to review their local policies to ensure they are doing all they can to detect and record fraud cases."
For the first time, councils were required to list frauds affecting maintained schools separately, revealing 191 cases totalling £2.3m, 86 of which - with a combined value of £1.9m - involved internal fraud.
Free schools, foundations and academies are not overseen by the spending watchdog.
Communities Minister Baroness Stowell said: "It is good that councils detected £178m of fraud last year, but they need to go further.
'Resolute determination'
"Councils and taxpayers are losing £2bn a year from this criminal activity. By tackling fraud, councils can help save money to protect front-line services and keep council tax down for law-abiding citizens."
Peter Fleming, chairman of the Local Government Association's improvement and innovation board, said: "Councils work very hard to identify those who are cheating taxpayers, in spite of cuts to funding, and will continue to do the best they can to deliver value for money for residents."
He added: "Local authorities firmly believe it is important to account for every penny of public money and as a sector we are resolute in our determination to stamp out fraud."