Alastair Campbell attacks 'self-serving' newspapers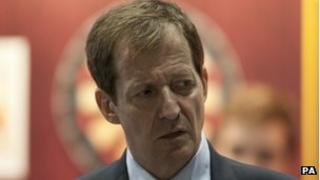 Alastair Campbell is to say a campaign by some newspapers to avoid regulation of their industry agreed by the parties is "absurd, self-serving bilge".
Tony Blair's former spin doctor says the case made against the plans, based on the Leveson recommendations, has involved a "lie machine".
Those making the case for it "will overplay their hand", he predicts in a Cambridge University lecture.
Newspapers say they will set up their own system of independent oversight.
They say a proposed system agreed by David Cameron, Nick Clegg and Ed Miliband is flawed, will undermine investigative reporting and most publishers will not sign up to it.
However Mr Campbell will argue that their alternative to the Royal Charter on press regulation, the Independent Press Standards Organisation, will fail to attract support.
Question of credibility
Instead, he suggests the Royal Charter - which will create a watchdog to oversee a new press regulator - will "settle down" and "we will all look back with utter bemusement at their (newspapers) warnings of an end to civilisation as we know it, and contempt at their machinations".
Many newspapers, he will claim in his lecture, "cannot see that falling sales are about more than technology, they are about falling credibility and rising public awareness about their methods and abuse of power".
"The rise in social networks is in part based on the concept of 'friends'," he adds. "We do not believe politicians as we used to; we do not believe the media; we believe each other."
In the first of two talks, Mr Campbell - who is Humanitas Visiting Professor in Media at the university - will explore whether journalism still matters in the age of social media.
He acknowledges that when he was a reporter on the Daily Mirror, before working for Labour, he was "okay" at his job but "not a great journalist", saying he was "better at my second career than my first".
Despite the frequency of his criticisms of newspapers, he will tell his audience in Cambridge that he would be happy for his children to pursue a career in print journalism.
"It is the media age and anything which defines an age is a good place for that generation to be."
'Making judgements'
Reflecting on the BBC's role in the media in his lectures, he says it attempts "broadly successfully" in its duty to be impartial.
But he adds: "That is not the same as objective. It is influenced by politics, and by other media and it is made up of people making judgements which can strive to be fair, but that is not the same as objective."
The leaks by the former US intelligence worker Edward Snowden - and the questions posed about what it is responsible to publish - is an illustration of "one of the biggest questions facing contemporary journalism", he argues.
The suggestion that the disclosures were in the public interest, as argued by the newspapers which have published the material, was "a vast claim which cannot be made with confidence".
Mr Campbell will also reflect that the media and political classes make "massive assumptions about public knowledge".
"We should teach that politics at its best is a good thing, and public service something they should aspire to, not sneer at," he will add.
"We should lower the voting age and introduce compulsory voting - with a none of the above option."