End 'disgusting' train toilet sewage - Lady Kramer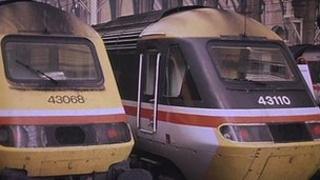 Train companies must stop dumping human waste from toilets on railway tracks, a transport minister has said.
Lady Kramer branded the practice "utterly disgusting" and called on the industry to take action.
The RMT rail union is also demanding action, saying it is a potential health hazard for track workers.
The train companies said carriages without toilet tanks were being phased out and it was not often an issue raised by passengers or workers.
Modern trains are fitted with toilet tanks, which are pumped out at the depot when they become full.
'Terrible'
But older rolling stock, which is still running on many of Britain's busiest routes, still discharges sewage directly on to the track.
Former Conservative minister Baroness Wilcox raised the issue as the House of Lords debated the 20th anniversary of rail privatisation.
"I am very sorry to see that still we have raw sewage going out on to the lines," she told peers.
"It is a terrible thing to see after all these years since November 5, 1993 that we should still be doing that."
She asked Lady Kramer: "Before we rush forward to HS2, which I am looking forward to enormously, I would like to urge you to think about the men working on the lines and working in the stations who are having to deal with this excrement."
The Lib Dem minister replied: "The comments you make totally resonate. This is just utterly disgusting and I think it does speak to the fact that customer service has not always been at the centre of railways because customers I think are very concerned about this issue."
She said InterCity 125 trains would be replaced from 2017 by new models which would solve the problem.
'Protective clothing'
But she added: "It is a tougher issue on the local diesel trains which are gradually going out of service and we could indeed use some help from the industry in trying to tackle that problem."
The RMT rail union claims parts of the rail network, such as stretches of the the East Coast Mainline, are "like an open sewer" and it was a frequent source of complaints from workers.
RMT General Secretary Bob Crow said: "It really is a shocking indictment on the state of our railways 20 years after privatisation, and with hundreds of millions of pounds a year being creamed off in private profits, that raw sewage is still being dumped on the tracks up and down the UK.
"Not only is it a filthy way of disposing of effluent, but it also poses real health risks and dangers for RMT members out there working on the tracks.
"It should be stopped and the train companies should be the ones who pay the price for upgrading the trains and employing staff to empty the tanks."
The Rail Delivery Group, which represents the train companies and Network Rail, said the issue did not come up in a bi-annual national passenger survey and it was not often raised as an issue by staff.
A spokesperson said: "The majority of rail carriages that have toilets are fitted with tanks and the number of older carriages which are not will fall further in the next few years as new InterCity trains are introduced.
"The industry is always listening to customers and has spent millions of pounds on installing and improving passenger toilet facilities.
"Train companies and Network Rail also take their duty of care towards staff very seriously and ensure that depot and trackside teams are given the right training, equipment and protective clothing for their roles."