More people living in Europe get UK winter fuel payments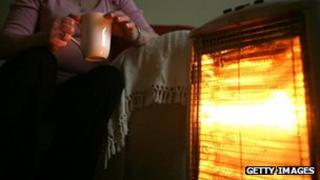 The amount spent by the UK on winter fuel payments for people living in mainland Europe has risen by 70% in a single year, government figures show.
Payments to the European Economic Area and Switzerland have gone from £12.8m in 2011/12 to £21.4m in 2012/13.
It follows a European Court of Justice (ECJ) ruling changing the rules of entitlement.
Most will be British citizens but the benefit is also available to those with a "genuine connection" to the UK.
The winter fuel payment is a tax-free benefit for pensioners worth between £100 and £300, depending on the recipient's age and family circumstances.
Nearly 120,000 households in the European Economic Area and Switzerland received the payment in 2012/13, compared with almost 75,000 in the previous year.
Almost 50,000 people in Spain and 30,000 in France got the payment.
'Madness'
The figures were published by the Department for Work and Pensions.
The court ruling means people who did not originally qualify for the payment in the UK are now eligible, providing they can show a "genuine and sufficient" link withthe UK.
From autumn 2015 people living in European countries with an average winter temperature higher than the UK's will no longer be eligible for the payment.
This means that pensioners who live in France, Spain, Portugal, Greece, Malta, Gibraltar and Cyprus, will no longer get the money.
Work and Pensions Secretary Iain Duncan Smith said: "The huge increase in UK Winter Fuel Payments made to people living in EEA countries equates to a near doubling in costs to the British taxpayer and follows a ridiculous ruling by the European Court of Justice.
"The Winter Fuel Payment is intended to help British pensioners with heating costs. From winter 2015-16, we are changing the rules so that it no longer goes to people in EEA countries with an average winter temperature higher than the warmest part of the UK."
UK Independence Party deputy leader Paul Nuttall said: "Once again the EU puts its nose where it's not welcome and helps itself to money from the pockets of British taxpayers."
He added: "The fact that some foreign pensioners living abroad will now receive winter fuel allowance is simply madness."