Energy bill hikes to last 17 more years - watchdog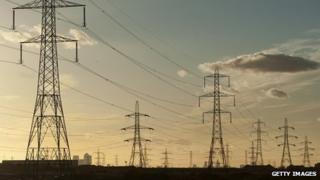 Consumers face 17 more years of above-inflation increases in energy and water bills as they help pay for the renewal of the UK's infrastructure, Whitehall's spending watchdog has warned.
The National Audit Office added that "gaps" in the official analysis meant government lacked "an overall picture of affordability".
It expressed particular concern about low-income households.
But the government said it was "committed" to keeping bills down.
Fuel costs have become a highly charged political issue in recent months.
Five of the UK's six main energy companies have announced price rises, at an average of 8.1%.
On Tuesday, EDF Energy became the latest provider to increase bills, by an average of 3.9%.
'Wider costs'
Alan Young, from energy company SSE, told BBC Radio 4's Today programme: "Standards in this industry do need to improve." But he denied his company was trying to make a "quick buck" from its customers.
"We're interested in making a sustainable profit that allows us to invest in the long term," he said.
"This country has had reliable supplies of energy. When people have gone to switch the lights on, they have come on.
"Have there been shortcomings in standards? Absolutely. Is there a commitment on our part to improve them? Totally.
"But fundamentally people have got reliable supplies of energy for their money. We're concerned that they should continue to do so, but in a way that is affordable."
In September, Labour leader Ed Miliband announced plans for a 20-month energy price freeze from May 2015, should his party win the next election.
And the government has launched a competition review and will review green and social charges, responsible for some of the cost of bills.
In an escalation of rhetoric, Liberal Democrat Energy Secretary Ed Davey told an industry conference on Tuesday that firms should not use customers as "cash cows".
The Treasury estimates that at least two-thirds of the £310bn of planned infrastructure investment over the next decade and beyond will come from private companies, ultimately paid for by consumers.
In its report, the National Audit Office (NAO) said it was estimated there would be an 18% average real-terms increase in household energy bills between now and 2030. For water, the figure would be 28%.
'Decades of underinvestment'
The NAO also said: "Affordability can only be assessed taking into account all household bills, household incomes and wider costs of living.
"Gaps in analysis, and the lack of a common approach to measuring affordability, mean that the government does not have an overall picture of affordability, either for the average household or for those on low incomes."
The NAO expressed particular concern about the plight of the low-income households where energy and water bills accounted for 15% of spending in 2011 - almost double the overall average of 8% - while their incomes had fallen by 11% in real terms since 2002.
A Conservative source said: "We agree with the NAO that government should 'rigorously scrutinise all decisions on both value for money and affordability grounds', that is why the prime minister has announced that we need to roll back some of the green regulations and charges that are putting up bills at the Autumn Statement."
And a government spokesman said: "Decades of underinvestment have left the UK struggling with insufficient energy infrastructure, but we are committed to fixing the failures of previous governments, and to making the difficult decisions that will allow us to have the infrastructure we need.
"The government is committed to supporting hard-working families and that's why we're cutting tax for 25 million people and taking 2.7 million people out of income tax altogether by 2014, helping the most vulnerable with their bills, freezing fuel duty and sticking to the economic plan that has got all sectors of the economy growing."