Labour loses housing benefit U-turn vote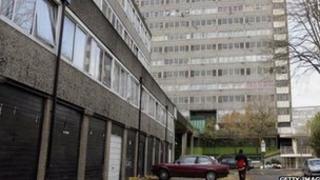 The government has seen off a Labour challenge to its housing benefit changes in the House of Commons.
MPs voted by a majority of 26 to reject what critics have dubbed the "bedroom tax", removing some payments if council tenants' properties are deemed to be under-occupied.
But two Liberal Democrat MPs - Andrew George and party president Tim Farron - backed Labour's motion.
The government says it hopes to save £500m as a result of the changes.
It argues that its policy, which it calls the abolition of a "spare-room subsidy", was introduced to reduce the housing benefit bill and free up homes for families living in overcrowded conditions.
'Make a difference'
In the Commons, Labour's work and pensions secretary, Rachel Reeves, urged Liberal Democrats to back her party and vote for the abolition of the coalition changes.
She said it was a "shame" Lib Dem Pensions Minister Steve Webb had not listened "to his own party who only in September at the Liberal Democrat party conference voted overwhelmingly against the bedroom tax, saying that it is 'discriminating against the most vulnerable in society'".
Ms Reeves added: "But I am afraid that's what you get with the Liberal Democrats. They say one thing at their conference and when they are out on the doorsteps, but they vote another way in here when it really counts.
"When they could make a difference, they turn the other way."
"I say shame on him and shame on his party," Ms Reeves told MPs.
But Mr Webb said: "We need action on overcrowding. We need fairness between social and private tenants. We need action on the deficit.
"The party opposite has no answer to these problems. The coalition has answered them."
The government defeated Labour's motion by 252 votes to 226, a majority of 26 - less than its usual majority in Commons votes, which in normal circumstances is more than 50.
Social media website Twitter users have strongly criticised Labour MPs after analysis of voting lists revealed that 47 were absent from the Commons at the time of the vote.
But Labour Party whips tweeted in response: "We operate a pairing system with the Tories and therefore it would have made no difference to [the] majority."
Pairing is an informal arrangement between party whips which matches MPs supporting one side of an argument who are unable to attend a particular vote with an equal number of MPs from the opposing side of the argument who then also do not vote.
There were 83 absent Conservatives and 23 absent Liberal Democrats, according to data published on the Public Whip.
An amendment tabled by Prime Minister David Cameron- which noted the "need to bring expenditure on housing benefit under control" - passed by 253 votes to 222 - a majority of 31.
Twenty-one Lib Dems did not take part in either vote. It is unclear whether they abstained or had a prior reason to be absent.
One Tory MP, Andrew Percy, formally abstained on Labour's motion by voting for and against it.
Earlier, a separate Commons Early Day Motion - effectively an expression of opinion - tabled by four Lib Dem MPs, said the "under-occupancy penalty" had been a "mistake and should not have been introduced".
Signed by Greg Mulholland, Ian Swales, Adrian Sanders and Roger Williams, it said more homes were empty as a result.
It added that it would "not achieve the savings projected for it and that as constructed it is likely to have unforeseen consequences that will be unfair to certain groups and individuals".
The alteration had the "perverse consequence that in some areas there are more larger properties now lying empty and with inadequate smaller housing", it said.