Terror suspects could face mosque ban, MPs told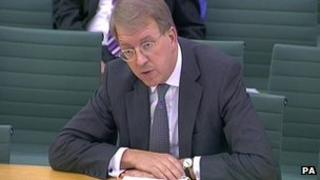 The home secretary could ban terror suspects who are subject to orders restricting their movement from going to mosques, the government's chief anti-terrorism official has said.
Charles Farr told MPs some suspects on Terrorism Prevention and Investigation Measures (TPims) may have "exploited" mosque visits.
Mr Farr was giving evidence to the Commons Home Affairs committee.
The hearing comes after a TPims suspect fled after leaving a mosque in a burka.
Mohammed Ahmed Mohamed, allegedly linked to Somali militant group al-Shabab, has not been seen since he left the west London mosque last week in disguise.
Of the mosque ban, Mr Farr said: "The home secretary has raised the view that amongst the restrictions that could be and should be imposed on TPim subjects, prohibition in certain or all mosques may be one, and those mosques would be determined by understanding from each TPims person which mosques they frequent."
He added: "Any step in this direction would have to be taken very carefully."
He also revealed Mr Mohamed was released on bail by the courts three times - not twice as previously thought - after being arrested and charged with alleged breaches of his TPims.
Mr Farr, director of the Office for Security and Counter-Terrorism, said the British Embassy gave Mr Mohamed travel documents to return to the UK when he was deported from Somaliland in 2011 because he did not have a British passport with him.
Asked by MPs why this happened, Mr Farr said officials were obliged to facilitate his return because he was a British national.
Mr Farr also said the government was considering plans to remove British citizenship from foreign terror suspects even if it left them stateless.
'Unhappy compromise'
Earlier, the committee heard from the independent reviewer of terror laws, David Anderson, who said the government's anti-terror legal measures had failed to secure the "holy grail" of successful prosecutions of terror suspects.
TPims were partly designed to give the police "added investigative opportunities", he said, but they had been no improvement on the control orders they replaced.
TPims were not foolproof and were an "unhappy compromise", he added.
He went on to say that the two-year limit on TPims meant there were "dangers" in releasing potentially dangerous people onto the street, but that the situation also concentrated minds on looking for a criminal justice solution.
Labour committee member David Winnick said TPims were "somewhat alien to the concept of British justice".
The home secretary can consider putting a TPim in place after an MI5 assessment of a suspect who can neither be charged nor deported and must "reasonably believe" he or she is involved in terrorist-related activities.
Those placed under TPims "may well be as dangerous, as is said - I've no reason to doubt otherwise", Mr Winnick said.
But he asked whether it would be "better resolved... to see if legislation could be amended so that such people could be tried".
Mr Anderson replied: "I completely agree that the best solution in every case, if it can be done, is to put these people on trial.
"You'll remember that of the ten people who have been subject to TPims since the system came in, four have been placed on trial and have been acquitted, acquitted by a jury.
But, he said, "The secretary of state believes they are dangerous terrorists," adding that the courts which imposed the TPims has supported her in that belief.
'Added freedoms'
Labour has criticised the government for loosening curbs on terror suspects that were imposed by the previous government's control orders, after Mr Mohamed and a second man, also under a TPim, absconded.
Shadow home secretary Yvette Cooper urged the government to re-introduce the power to relocate suspects to another part of the country.
But Mr Anderson explained: "The added freedoms that go along with TPims might give you added investigative opportunities.
"I think the thought was that if people were freer perhaps to associate with people that they'd known in a place with which they were familiar, it might be possible to pick up a little more information on what they are doing, and perhaps even reach the holy grail of being able to prosecute them for terrorism-related activity."
The coalition had provided "considerable extra funding" for security services to step up surveillance on terror suspects, he added.
But he concluded: "I don't think TPims have been very successful as investigative measures, any more than control orders have.
"That's not to say that a complete blank has been drawn in relation to the gathering of evidence of possible utility for a criminal trial.
"I would certainly accept that we haven't seen the fruits of that at this stage."