Maggie Philbin to lead digital taskforce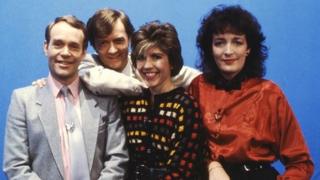 Former Tomorrow's World presenter Maggie Philbin is to lead a Labour-backed taskforce on developing young people's digital skills.
Party leader Ed Miliband will say in a speech that the UK is falling behind on IT and the government is "letting down" businesses and the workforce.
Ms Philbin said she was "completely independent" of party politics.
Her aim was to encourage "brilliant young people", she added.
Ms Philbin, who is chief executive of TeenTech, which arranges science career visits for schoolchildren, presented the BBC's Tomorrow's World, the science and technology programme which ran from 1965 to 2003. She also presented BBC children's show Swap Shop.
'Independent work'
She said: "I am delighted to be leading this digital skills taskforce on how Britain might encourage our brilliant young people to develop the skills of the future.
"Britain has led the world in new technologies for decades but we need to make sure we do everything to maintain that success by training and developing the talents that our country needs.
"I would like to emphasise that this is a completely independent piece of work which will be shared with all political parties to inform future policies as they see fit."
During his speech, Mr Miliband will say skills are essential to enable the UK to "earn our way out of the cost-of-living crisis, rebuild our economy for the future, and ensure all working people can enjoy the prosperity they deserve".
The government says Labour would increase borrowing, reducing prosperity, and that recent improvements to the economy will help households.