Calls to government departments 'too expensive', say MPs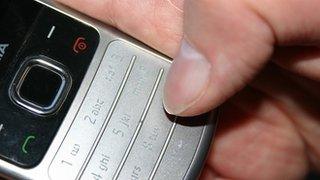 More than 100 million calls by the public to government departments were charged at a premium rate, costing people an estimated £56m, MPs said.
The Public Accounts Committee report found a third of Whitehall numbers used by the public last year were higher-rate, including those for victim support, benefit and tax enquiries.
Labour MP Margaret Hodge said their continued use was "not acceptable".
The government acknowledged a "more consistent" approach was needed.
According to the cross-party committee, which has been looking into the issue, of the 208 million calls made to government departments in 2012/13, about 63% were made to higher-rate numbers.
Target 'poorest'
Half of the lines in Whitehall which charge premium rates "serve the poorest" in society, it said, and there ought to be "low-cost alternatives" for vulnerable people.
There was also criticism that calls to government departments took too long to answer.
"Customers of government services should be able to contact those services easily and cheaply," Mrs Hodge, who chairs the committee, said.
"Charging customers higher rates by making them use 0845 or other high-rate numbers is not acceptable, especially when the customers are often vulnerable people.
"Customers spent an estimated £56m on calls using higher rate numbers, from the lines run by the Department for Work and Pensions, to helplines for victim support and the Bereavement Service and the inquiries and complaints line of the Student Loans Company."
According to the communications regulator Ofcom, 0843 and 0844 calls cost between 1p and 13p a minute from landlines and, typically, between 15p and 41p a minute from mobile phones.
Calls to 0845 numbers cost between 1p and 10.5p a minute from landlines, and from 12p to 41p from mobiles while for 0870 codes, the rates are 2p to 10p and 21p to 41p.
The Department for Work and Pensions, which gets more than a 100 million calls from the public a year, has said it will offer a choice between 0845 and 0345 numbers to enable callers to choose the line which is cheaper for them.
Waiting times
Appearing before the committee in September, head of the Cabinet Office Richard Heaton said his officials would work on guidance and principles for Whitehall departments to ensure people were not "ripped off".
In its report, the committee also said calls to government departments took too long to answer, with callers to Revenue and Customs in the first quarter of 2013 having to wait an average of seven minutes.
According to the committee, Revenue and Customs only answered 16% of calls made to its tax credit helpline on July 31, the deadline day for notifying change of circumstances.
Mrs Hodge said the performance of some departments was "astonishingly bad".
"Callers must be informed of the costs involved in calling a particular number. Costs to callers can be even higher when they are left waiting to speak to someone," she added.
"The industry benchmark is to answer 80% of calls in 20 seconds but most departments do not have such a target and their performance falls wide of accepted industry standards."
'Bumper bill'
The Cabinet Office said many people now preferred to use the internet to access government services.
"We agree that it is inappropriate for vulnerable people to pay high charges for accessing vital public services and we are clear that a more consistent approach is needed," a spokesman said.
"The Cabinet Office now runs a cross-departmental group to consider customer telephone lines. This group has made good progress in drafting guidance on prefix number selection and establishing best practice.
"We will publish this guidance and have a standing remit to ensure it is kept up to date."
Consumer group Which? called on all public bodies and companies to provide either freephone or local rate numbers for their customer service and complaints lines.
"It is ridiculous that people face a bumper bill to call a public body, especially when they have to wait on hold," said its executive director Richard Lloyd.
"The Cabinet Office must now act fast to ensure the government and public bodies lead by example and put an end to costly calls."