IT glitch would threaten 2015 election, warn administrators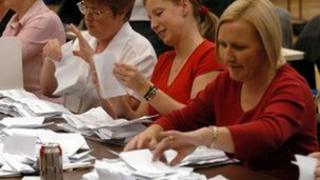 Some people could be denied a chance to vote at the next general election if a new computer system fails, ministers have been warned.
The Association of Electoral Administrators (AEA) says a last minute computer glitch could see electors disenfranchised.
The organisation raised the concerns in a research paper.
The government said it would take the AEA's warning seriously but proceed as planned.
The AEA, which represents more than 1,600 election administrators in town halls across the UK, said its members were not as confident as they should be about plans to register people to vote as individuals, rather than by households, in time for the 2015 poll.
It said a survey of administrators in London had found an "overwhelming" number of them were not confident that the new system would work.
The AEA report said there was "real concern about the potential consequences" of an IT failure.
'Short timescale'
It said a failure from eleven days before polling day could result in electors being disenfranchised.
AEA chief executive John Turner said that in the event of a problem people trying to get on the electoral register for the first time would be worst affected.
He said: "Our concerns relate to that very short timescale before any election, minus 11 as its known, and the fact that if the IT systems that have been put in place for IER (Individual Electoral Registration) were to fail then it could be the question of a considerable number of people not being on the register and therefore unable to vote at the general election."
He added: "At the 2010 general election there were significant numbers of applications to register largely as the result of the prime ministerial debates on television.
"Where we will be in 2015 is an absolute reliance on IT on a national basis that has not been the case before so it's untried and untested."
The general view of AEA members was, according to its paper, that they would deliver the plans, despite "considerable challenges". But if those risks were not fully addressed its view could change.
Individual registration, which is meant to tackle electoral fraud and make the register more accurate, is due to take place in England, Scotland and Wales in time for the 2015 general election. It already exists in Northern Ireland.
The details of electors registering to vote will be checked against DWP records using an IT service provided by the Cabinet Office.
The AEA also expressed concern about the timescale for training staff.
'Pleased'
Last month, the Electoral Commission said the government could go ahead as planned with individual registration despite some remaining risks. It made the same point to MPs at a hearing earlier in Thursday.
A recent test of the software found the records of almost 80% of electors already on the electoral roll could be automatically confirmed using the DWP database.
A Cabinet Office spokesman said: "We are pleased the Association of Electoral Administrators agrees with the Electoral Commission's assessment that there is no reason not to proceed with the move to Individual Electoral Registration.
"The AEA is clear that we should continue and that local administrators are preparing for the change - but we will take this feedback seriously and address it as we proceed.
A lot of testing on the IT has been completed very successfully and we are on track. There's still more work to do - but before the new system comes in it will be tested and have any issues ironed out.
"Our plans are on schedule as we prepare to bring in this new way of registering to vote by Summer 2014. "