Lib Dem Simon Hughes apologises for donations breaches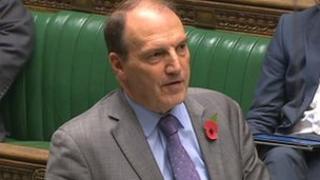 The deputy leader of the Liberal Democrats, Simon Hughes, has apologised to the Commons for failing to register six donations to his local party.
The Commons Standards Committee cleared him of breaking rules against lobbying.
But it said such a senior and experienced MP should have taken advice about the code of conduct.
The committee's report followed an investigation into Mr Hughes by the Parliamentary Standards Commissioner, after complaints were made about him.
The Southwark MP had been criticised for not mentioning the financial interests during parliamentary debates.
Mr Hughes' apology came during a personal statement in the Commons, on the order of the Standards Committee.
The watchdog found that the veteran Lib Dem MP did not tell the parliamentary authorities about six donations to his local party over six years which were linked to him.
But it said it had found no attempt had been made to conceal the donations.
Addressing the chamber, Mr Hughes said he accepted entirely the findings that he was "not as attentive as he should have been to the rules of the House".
"I have of course admitted my mistakes and I apologised from the outset to the commissioner and to the committee," he said.
Mr Hughes added: "I will immediately register the outstanding interests as the committee recommends. I take full responsibility for these failures and I apologise unreservedly to the House."
All the donations in question were reported to the Electoral Commission by Mr Hughes's local party, the report said.