TV writer's fury as Labour leaders announce big cuts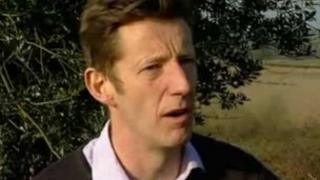 It could be a line from BBC One's successful series "Truckers", the Nottinghamshire-based bittersweet drama about life on the road.
"I'm ashamed to have been born in Nottinghamshire over the 100% cut," says series scriptwriter William Ivory. He's furious at plans by the county council's Labour leaders to cut the entire annual grant of £93,000 to the Nottingham Playhouse.
"For 20 years, I've tried to show off Nottinghamshire to the world as an artistic heartland to come and film in. Maybe not," he tweeted.
There's been a similar angry reaction from the theatre itself .
But has Labour's Alan Rhodes any wriggle-room in balancing the books at Nottinghamshire's County Hall?
His council is to cut 800 jobs or posts, and council tax is set to rise in Nottinghamshire for the first time in four years.
Tax freeze
But Councillor Rhodes thinks it is essentially a political trap because since 2009 Nottinghamshire had been run by the Conservatives' Kay Cutts.
Under her leadership, the council cut 3,000 jobs and budgets were squeezed, but council tax was frozen.
For Kay Cutts, the council tax freeze was a big selling point.
Within six months of taking political control of Nottinghamshire again, Labour says it has been forced to increase council tax by just under 2% next year in order to raise £5.5m.
Alan Rhodes says it works out at only 38p a week extra on the average tax bill. But that's not how the Tories locally or Eric Pickles and George Osborne nationally will portray it.
Labour's budget proposals are tough meat indeed: budgets are being cut again in the short term by £83m which still leaves a looming financial shortfall of £154m over the next three years.
Little wonder that the new Labour leadership will consult voters on its plans.
"I'm very angry about being in this position," Mr Rhodes told me.
"We inherited a financial mess from the Tories and we're having to fix it.
"We've had to make the extremely difficult decision to recommend an increase in council tax. But I hope our residents understand that's not something we do lightly, especially in the current economic climate."
Nottinghamshire spends £590m a year on local services and a current staff payroll of 9,400. The budget cuts are wrapped up in 122 proposals.
They will impact on libraries, highways maintenance and consumer protection and Nottingham Playhouse loses its annual £93,000 annual grant.
That's already resulted in fury from the theatre's chief executive - and the Conservatives are also pretty heated.
"Labour's priorities are totally misguided. And the council tax rise could have been avoided," Ms Cutts told me.
"They should be looking at ways in which services are run in the private sector. That would give staff new job opportunities.
"The reality is that more than 800 people will be losing their jobs but with so many working part time, the number affected will be much higher."
The unions are already planning protests at the proposed job cuts. The local radio phone-ins are buzzing with concerned users of council services.
The council says some of the cuts are necessary to reinvest £37m in adult and child care.
But with year-on-year deep council cuts, some are asking if the inevitable result is a redrawing of the local government map in the East Midlands, and maybe another big cut - this time in the number of our councils.