What price democracy? Counting the cost of UK elections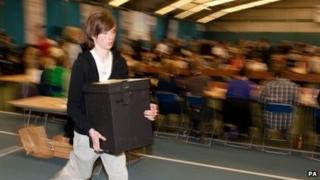 Polling day for many in the media is the lull before the storm: seemingly endless advance preparation awaits vindication from the main event which, for broadcasters, begins at 10pm.
However, at each election a massive operation that completely dwarfs anything we plan to do has also been in preparation for many months and is launched 15 hours ahead of the election results programmes taking to to the air.
The precise details of how elections are delivered are hard to pin down.
According to Hansard, on 27 April 2011, Labour MP John Spellar asked in the Commons "the cost to the public purse of the 2010 general election".
Cabinet Office minister Mark Harper replied: "We have estimated that the cost of the 2010 UK parliamentary election will be £113,255,271. This figure consists of £28,655,271 for the cost of distributing candidates' mailings and a further £84.6 million for the conduct of the poll."
British Electoral Facts 1832-2012 records the following total costs for election administration and postal deliveries (cash totals unadjusted for inflation):
All of the above excludes spending by individual candidates and national party organisations: in 2010 this amounted to an additional £45.5m - £31.5m on national campaigns and £14m of candidates' expenses.
We know that the 2010 general election was contested by 4,150 candidates, representing 135 political parties; that UK electoral registers contained some 45.6 million entries (an increase of 1.3 million since the 2005 general election); that just over 82% of all votes were cast in polling stations and the remaining 12% by post.
And that, as they say, is about it as far as the information goes.
Organising the 2011 AV referendum
In December 2012, the Electoral Commission published their report "Cost of the May 2011 referendum on the UK Parliamentary voting system".
The introduction states: "This is the first time that a full report has been published on the costs of running a national poll."
Given the 2011 Alternative Vote referendum was a UK-wide event, it is the closest we are likely to come to the scale of organisation required in a general election.
As with the 2010 general election, the 2011 AV referendum polling day was shared with a number of other elections: on this occasion those for the Scottish Parliament, Welsh and Northern Ireland Assemblies, as well as local elections across most of England and all of Northern Ireland.
As a consequence, various costs incurred were shared with these other bodies polling on the same day.
The total cost of administering the referendum was £58.2m. However, the report states: "We estimate that this referendum would have cost around £90m had it been held on a 'stand alone' basis."
Nearly 45.7 million people were registered to vote in the 2011 referendum and almost 19.3 million (42.2%) did so.
What was the scale of organisation involved?
Polling station costs (£27.2m)
There were 42,781 polling stations used throughout the UK and hired at a cost of £4.3m. The average cost of hiring a polling station was £637 ranging between £486 on average in Wales through to an average of £1,323 in London.
The polling stations were staffed by 119,500 people throughout the day at a cost of £15.6m.
Some 45.7 million ballot papers were printed at a cost of £2.7m; and the equipment at the stations - ballot boxes, polling booths, etc. - cost £1.5m.
Postal vote costs (£10.6m)
Almost 7.2 million postal votes were printed and despatched for the referendum and 5.2 million were returned in their pre-paid envelopes.
Some 45.7 million poll cards were printed and delivered to every elector.
About 19.3 million votes cast in 42,781 polling stations across the UK were transported to 400 count venues where 80,500 people were employed to count them.
Campaign broadcasts
The report comments: "The costs of referendum (or indeed party political) campaign broadcasts have not to our knowledge been estimated before."
Undaunted, they asked "the commercial broadcasters" to estimate the total value of the Yes and No campaign broadcasts if they had had to pay for the space.
The estimate they came up with was £420,000 for television broadcasts and £30,000 for those on radio.
In addition to the total of £58.2m spent on administering the referendum, the Electoral Commission spent £7.5m on its public awareness campaigning, including the delivery of an information booklet to 27.8 million households.
They paid a further £8.8m to the Royal Mail, including £1.5m for delivering 8.5 million items of campaign literature from Yes to fairer Votes and £6.7m for delivering 40 million items from the No to AV campaign.
This summary of the detail of how the 2011 AV referendum was organised presents a picture that is likely to be very similar to what will be in place for May 2015. The estimated cost of a "stand alone" referendum was £90m - barely £5m more than the cost of the 2010 general election.
Prior to polling day in 2015, around seven million postal votes will have been despatched and about six million returned and processed.
Over 45 million ballot papers will have been printed to reflect 650 separate candidate lists for the election and the same number of poll cards delivered to electors.
On polling day there will be around 43,000 polling stations staffed for 15 hours by 120,000 people.
On election night, thousands of ballot boxes will be transported to centres where more than 80,000 people will sort and count their contents.
Like most people, I take all this for granted, barely giving a second thought.
Yet it is a massive, extraordinary and complex operation: the biggest manifestation of civic society that any of us are ever likely to see.