Nick Clegg springs policy on us, claims Cheryl Gillan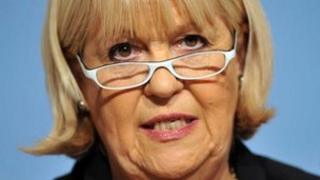 Deputy Prime Minister Nick Clegg has been accused of springing policy announcements on cabinet colleagues without warning.
Conservative former Welsh Secretary Cheryl Gillan said such tactics were "difficult to deal with" and threatened the smooth running of government.
She said any future coalition agreement should include a "no surprises" clause.
The Tory MP was briefing peers on the constitutional implications of coalition government.
The MP did not give specific examples of Mr Clegg's alleged surprises.
The deputy PM has made interventions across a wide range of policy areas, including home affairs and education, since entering government in 2010.
'Pretty difficult'
But Lib Dem sources said they could not think of a single example of a policy Mr Clegg had announced "without cabinet agreement".
Some Conservatives were upset about Mr Clegg's recent criticism of free schools, the source added, but that had been an announcement of future Lib Dem policy, not a coalition announcement.
Mrs Gillan, who was sacked as Welsh secretary in 2012 and also served as a junior education minister in John Major's Conservative government in the 1990s, said guidelines were needed when there was more than one party in government.
"Because you are sat there as a secretary of state and then suddenly the deputy prime minister says something which is completely outwith anything that has ever been discussed, is not a policy area, but he makes that pronouncement in public. That is pretty difficult to deal with. It's pretty difficult to deal with if you are in a one-party government, quite frankly.
"It's even more difficult to handle when you are in a coalition."
If there were to be a set of guidelines on the formation of future coalitions, she told the peers, "the law of no surprises would be my first rule... or at least make sure the secretary of state in whatever department has a little bit of warning about it".
Former Lib Dem Health Minister Paul Burstow agreed that it would be a "good rule".
'Toys'
Mrs Gillan also suggested collective cabinet responsibility, the convention that dictates ministers follow the same line in public, was "no longer modern or relevant".
The MP, who openly opposed government policy on the proposed HS2 rail line when she was in cabinet, said ministers should be allowed to speak more freely on certain issues.
She also accused Mr Clegg of wrecking her plans for a forum for ministers responsible for Wales, Scotland and Northern Ireland, to monitor "what was going on in the devolved administrations".
"I think the deputy prime minister allowed that meeting to take place once. He chaired the first meeting. The second he handed to Danny Alexander and then he allowed it to just wither away."
A Lib Dem source said Mr Clegg was "one of the biggest proponents in government" of more power for Wales and was leading the agenda on devolving more power to English cities and to Scotland.
Mrs Gillan also agreed with the former Children's Minister, Tory MP Tim Loughton, that a fixed-term Parliament was key to holding the coalition together.
Mr Loughton said it removed the "capacity of the junior partner to throw their toys out of the pram" and bring down the government.
The MPs were appearing before the Lords constitution committee.