Viewpoints: Do MPs agree with Brand and Paxman?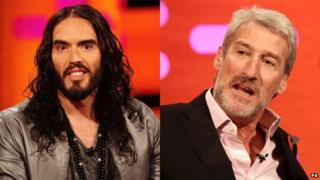 BBC presenter Jeremy Paxman has condemned the "green-bench pantomime in Westminster" and comedian Russell Brand has criticised "the lies, treachery and deceit of the political class". BBC Radio 4's PM programme asked three MPs for their views on voter apathy.
Tim Loughton, Conservative MP for East Worthing and Shoreham
Like it or not, most people's lives are run by political decisions and those political decisions are made by politicians that you elect.
The trouble is that not enough people bother to go out and elect us.
There's a cynicism; we don't help ourselves. Interestingly, last night I was at a dinner and an MP got up and the first thing she said was: "Before I was an MP I had a proper job." She was a youth worker.
We're actually quite self-deprecating and that plays into the hands of cynical people, of which I would count Jeremy Paxman, who have this caricature of politicians as a bunch of duplicitous so-and-sos on some big gravy train, living the life of Riley.
Actually being an MP is a job, it's an exceptional job, and most of us spend an awful lot of time, blood, sweat and tears, putting a lot of effort into it.
I don't mind people attacking my political policies, and they can say I've got it absolutely wrong over certain things I've been doing in my constituency, or in Westminster - but this constant attack that actually all MPs are duplicitous, and we're just on this gravy train and we're good for nothing, and it's all a pantomime is deeply undermining of the democratic process, and can only switch people off from bothering to vote, particularly young people.
That's why barely 40% of young people at the last election who were able to vote for the first time - 18 to 24-year-olds - actually bothered to vote, and that really is worrying for the future.
[Russell Brand is] deeply destructive, actually. Watching that interview with Jeremy Paxman he's very amusing, very articulate, but it's deeply destructive, the influence on young people who think, "Gosh, Russell said we shouldn't bother to vote, let's not vote".
The way not to get [turnout] to improve is to say, it's all a waste of time and to go on the champagne anarchist ego trip that Russell Brand is on. That really doesn't help.
Margaret Hodge, Labour MP for Barking
I did some work at the beginning of the century, in 2001, when the turnout in my constituency was particularly low.
What I found was that people weren't apathetic about voting, they were angry. It was anger not apathy that motivated them.
The problem really is that we tend to set our agenda from the Westminster bubble, so what concerns us here in Westminster.... we really don't listen, and we really don't connect to people in the community enough.
So I've completely changed the way I do my politics from that experience.
Now the first thing I do is listen, and people's politics really starts from the local, they care about what's happening in their home, and in their local community.
Quite often I can't address the national issues that worry them: I couldn't address the issues about immigration in Barking before the last election, or the lack of social housing.
But I could address the issues about the post boxes, where they were sited, or whether the rubbish was collected, or whether we had prostitution on the street corner.
When I started addressing those issues that really concerned them, I connected with local people, I started to build trust, and I then got people voting again and voting for me, and seeing off [2010 BNP general election candidate for Barking] Nick Griffin.
Whilst Russell Brand may be right to be fed up, the answer is not revolution.
Sir Menzies Campbell, Lib Dem MP for North East Fife
There are no great divides in principle between the three parties.
By and large we're all in favour of the mixed economy, we're all by and large - with some exceptions - in favour of state education, the kind of things which were battles between different parties have disappeared.
In addition to that, politics has become a question of management: can you manage the economy better than I can?
The third thing, rather paradoxically, is that the information technology revolution has meant that the age of deference has been swept aside, and I'm in no doubt whatsoever that there were people in the House of Commons 20, 30, 40 years ago who were a lot less than the perfect MP, but of course in those days no-one knew.
On the whole question of executive pay: 50 years ago, my mother wouldn't have had the slightest idea what the director general of the BBC was paid, and she wouldn't have thought it was her business, but now because information is better available people are better informed and inevitably people are less charitable.
[Russell Brand showed] a real lack of self-awareness: everything's wrong, but absolutely no suggestions as to how it would be put right.
If Russell Brand were the prime minister, imagine what kind of country it would be - if you possibly can.
The text in this article is abridged from a panel discussion on BBC Radio 4's PM programme.