MP Mark Pritchard goes to watchdog over Albania claims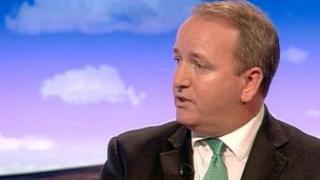 A Conservative MP has referred himself to Parliament's standards watchdog over "hurtful" claims that he offered to set up business deals in return for hundreds of thousands of pounds.
The Daily Telegraph reported that Mark Pritchard said he would be able to broker investments overseas using his political contacts in Albania.
It said he asked for £3,000 a month for consultancy and 3% of any deal.
But Mr Pritchard said the claims were false and he wanted to clear his name.
The MP for the Wrekin in Shropshire sits on the all-party group for Albania, and the Telegraph reported that that he had told an undercover reporter posing as a businessman that he should invest £10m in a group of boutique hotels in the country.
According to the terms described by the newspaper, this would have realised Mr Pritchard more than £300,000.
'Damage'
But there is no suggestion the MP was willing to support deals in Parliament.
In fact he told an undercover reporter that he did not lobby. No money changed hands.
Had Mr Pritchard agreed and properly declared a contract of this sort, it is not clear whether he would have broken any rules, BBC political correspondent Ross Hawkins said.
Parliament's code of conduct stipulates that an MP is not prevented "from holding a remunerated outside interest as a director, consultant, or adviser, or in any other capacity, whether or not such interests are related to membership of the House".
Mr Pritchard said: "The allegations made by the Telegraph are false and I deny their claims.
"They have selected quotes out of context to fit their desired story, which is both hurtful and malicious and seeking to damage me."
He added: "I cannot comment further as I am consulting libel lawyers. I have asked the Parliamentary Commissioner for Standards to investigate the matter".
A Labour Party spokeswoman said it was "right" for Mr Pritchard to refer himself to the body.