Further consultation over charity campaigning changes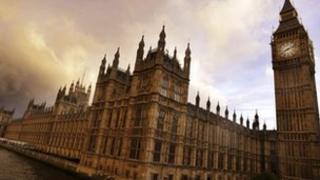 The government has agreed to calls from charities to hold a fresh consultation over changes to how much they can spend on campaigning in an election year.
Ministers have announced a "pause" of nearly six weeks in proposals that would tighten the requirements on organisations other than political parties to register their spending.
Critics say the plans are a "muddle" and will stifle democratic debate.
The coalition said it would consult with "all interested parties".
The government has already made a series of concessions to its proposed lobbying bill, which would also establish a statutory register of lobbyists.
The bill, brought forward following allegations about the influence of lobbyists on government decision-making and the involvement of peers and MPs with lobbying groups, is intended to improve transparency and confidence.
But campaigners from across the political spectrum have said the proposals relating to the voluntary sector - which would reduce the cap on what any third-party organisation could spend across the UK in the run-up to and during elections from £961,500 to £390,000 - would muzzle political debate.
They say reducing the threshold at which organisations deemed to promote a party or an individual candidate must register would impose an "enormous" administrative burden.
'Shown willing'
Announcing the pause - which will last until 16 December - Lord Wallace of Saltaire said: "In that period I and my other colleagues in government responsible for this bill will consult widely with all the interested parties - members of this House and the many others outside."
He added: "I stress that we are listening and want to listen. We have already shown willing."
The move came after former chief inspector of prisons Lord Ramsbotham threatened to force a vote to send part of the bill to a special committee in the Lords - which would have effectively delayed its progress until well into 2014.
A No 10 spokesman said it wanted to make sure that the legislation was got right.
The National Council of Voluntary Organisations said it supported the move but urged the government to use the time to have a more fundamental rethink of its objectives.
"We still need to see substantial changes in order to ensure normal charity campaigning, which has been part of public life in this country for decades, is truly protected," said its chief executive Sir Stuart Etherington.
"In addition to increasing the thresholds for registration with the Electoral Commission, the government needs to deal with the proposed constituency spending limits and other measures that would create alarming levels of red tape for charities, such as asking them to account for staff time."
The House of Commons approved the principle of the legislation - called the Transparency of Lobbying, non-Party Campaigning, and Trade Union Administration Bill - in September but many Tories and Labour MPs called for significant changes.