Water firms urged by government to 'look closely' at price rises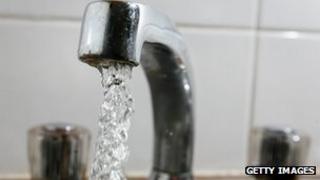 Water firms have been urged to "look closely" at what level of price rises need to be made and introduce special tariffs for struggling households.
Environment Secretary Owen Paterson has written to companies calling on them to recognise people's financial strain.
"Keeping water bills affordable is a crucial way we can help hardworking people," he said.
The water industry said it was already tightly regulated and there was "no free for all" on prices.
Unlike gas and electricity, households cannot switch their water supplier.
Thames Water is the only one of the 18 regulated water companies to have applied to the regulator, Ofwat, to increase prices in advance of the next pricing review.
'Fair deal'
Ofwat is expected to turn down Thames Water's request to increase bills by an average of £29 a year in 2014-15.
The Department for the Environment, Food and Rural Affairs has said average increases in water and sewerage bills had been in line with inflation since the 2009 price review but had substantially outstripped increases in household income.
Mr Paterson said: "We are pressing hard to make sure customers get a fair deal by encouraging water companies to look closely at any price increases, introduce social tariffs for vulnerable customers and crack down on bad debt."
Labour's shadow environment secretary, Maria Eagle, has called on the prime minister to "require water companies to introduce a social tariff to help those who are struggling".
'Squeezed'
She said Labour would seek to amend the forthcoming Water Bill legislation to "require all water companies to participate in a national affordability scheme and review whether there is a need for a tougher regulatory regime".
She told BBC Radio 4's World at One programme water companies were "ripping people off", with bills having risen by 50% in real terms since privatisation and the industry having made £1.9bn in profits.
Severn Trent Water said it would not increase bills by above inflation next year.
"We know that many of our customers' incomes have been squeezed and it's right we should do what we can to keep water bills low," said chief executive Tony Wray.
Conservative MP Mark Field said Labour had "struck a chord" by highlighting the squeeze on family finances and urged the government to focus on a "much more purist economic case" to avoid being seen to play catch-up.
"The real danger is that we are getting away from what should be our strong point - which is the fact that growth is firmly back in the economy," he told the BBC.
Fellow Conservative Robert Buckland, who is leading a backbench Commons debate on the issue of water bills later on Tuesday, said it would be "very helpful" if more firms offered special tariffs for the low-paid.
However, he said the government had already taken action on council tax and fuel tax and it had the "right economic policy that will deliver the answers people are asking for on the cost of living".