Call for 'ethics training' for MPs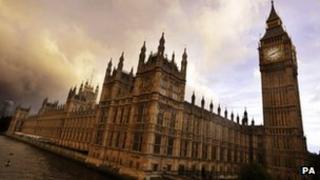 MPs should get "ethics training" to help them avoid abusing their positions, the standards watchdog says.
The move is among a range of changes proposed by the Committee on Standards in Public Life to address concerns over lobbying of politicians.
It calls for "more timely and detailed disclosure" about contacts with lobbyists and any hospitality offered.
Parliament is currently considering legislation which would introduce a statutory register of lobbyists.
This follows a series of allegations regarding financial links between parliamentarians and lobbying firms.
The watchdog's chairman, crossbench peer Lord Bew, said people needed to know that vested interests were not having undue influence over decision-makers following a series of scandals.
'Greater clarity'
"We have concluded that a package of measures is urgently required to deliver a greater culture of openness and transparency around lobbying," he said.
He added that MPs and peers should publish dates of meetings with lobbyists within a month of them taking place, with details of who was present and "meaningful" descriptions of what was discussed.
Those holding public office should decline "all but the most insignificant or incidental gifts" as well as hospitality while the rules on ex-MPs lobbying ministers should be tightened up.
Such safeguards, he added, "would provide greater clarity for public office holders on the standards expected of them, and reassure the public that a more ethical approach to lobbying is actively being applied by all those individuals and organisations involved in lobbying".