Change of tone for Labour on HS2?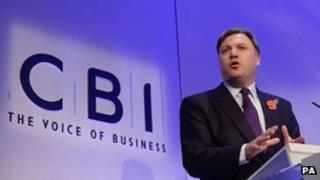 Do I detect a small change in tone from Ed Balls on high speed rail, a little softening of the usual critique?
Today the shadow chancellor repeated his party's scepticism about the project in his speech to the CBI.
He warned about keeping a check on rising costs and deployed the usual language about not giving the government "a blank cheque".
Here is an excerpt: "The Labour Party cannot - and will not - give the government a blank cheque. That is what you would expect from any credible official opposition seeing a government desperately mismanaging a project.
"And that is what is happening here with the costs having shot up to £50bn. Indeed, the costs have gone up by a staggering £10bn in the last year, so I of course welcome the prime minister's belated recognition that he needs to get a grip.
"As you at the CBI have said recently: 'The increased costs of HS2 are a matter of concern. For HS2 to go ahead it has to wash its face. The value for money test has to be properly applied.'
"We agree - and we will put the national interest and the taxpayer interest first.
"We will take a hard-headed look at the costs and benefits of the scheme to ensure this is the best way to spend £50bn for the future of our country."
Assumption
But note that last sentence. Labour's priority now, he said, is to ensure that HS2 is the best way to spend £50bn.
The implicit assumption in his language is that Labour wants the project to go ahead but will make sure money is not wasted. There is less explicit doubt about whether Labour would support HS2.
Contrast this with what Mr Balls told Victoria Derbyshire on BBC 5Live on 25 October: "What I am saying is that we need to know the costs are under control and the benefits are real.
"And if we judged that it wasn't in the national interest, we would not go ahead. And if it is in the national interest, if this is the best way to spend £16bn on transport in the next Parliament and the extra billions in the years after, then we'll give it the go-ahead.
"But, at this stage, I genuinely don't think that the evidence is there, the case has been made. The National Audit Office has been very critical and the government can't answer the questions.
"In those circumstances, it would be irresponsible for me to say, regardless of the benefits, we are going to pull the plug, but it is also really irresponsible for me to say 'well OK, whatever it costs and however obscure the benefits, we will go ahead anyway'."
'In the balance'
Mr Balls' explicit argument then was that if the arguments about cost and benefits did not stack up, then Labour would not support the project. Labour's support was much more in the balance.
He made a similar point in his party conference speech in September, when he said: "Under this government the High Speed 2 project has been totally mismanaged and the costs have shot up to £50bn. David Cameron and George Osborne have made clear they will go full steam ahead with this project - no matter how much the costs spiral up and up.
"They seem willing to put their own pride and vanity above best value for money for the taxpayer.
"Labour will not take this irresponsible approach. So let me be clear, in tough times - when there is less money around and a big deficit to get down - there will be no blank cheque from me as a Labour chancellor for this project, or for any project.
"Because the question is - not just whether a new High Speed line is a good idea or a bad idea, but whether it is the best way to spend £50bn for the future of our country."
That crucial first question - whether or not HS2 is a good or bad idea - appears now to have been answered by Labour; it certainly has disappeared from Mr Balls' public pronouncements.
Mr Balls' aides insist that the position has not changed, that I am reading too much into this, that Labour's future support for HS2 has still yet to be determined.
And I know that, to some, this might appear arcane Westminster kremlinology.
But if Ed Balls is shifting his language on how £50bn of your and my tax pounds may be spent, on an issue of public policy where Labour's long-term support matters hugely, that is interesting.