Mind your language business warns politicians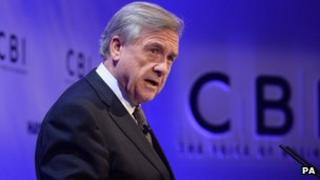 "Careless words cost jobs".
That is the warning big business issued to politicians of all colours this morning.
The words were used by the CBI's President, Sir Mike Rake, at the organisation's annual conference.
What worries Sir Mike is the danger that a four-year long cycle of electioneering - the Euro elections in spring 2014, the Scottish referendum four months later, the General Election in 2015 and European referendum in 2017 - could tempt politicians into permanent populism and, as a result, bad policy making.
The CBI believes that the Tories have succumbed to populism by attacking the EU and immigration levels whilst Labour have done so by promising energy price controls and flirting with the cancellation of HS2.
The reaction of the politicians here was telling. When I asked David Cameron whether he was guilty of "playing games" (another quote from Rake) over Europe, he insisted that he had promised a referendum in order to ensure that support for the EU did not disappear.
In a parallel argument, Ed Balls insisted that being prepared to intervene when competition fails was necessary to ensure public support for markets.
To which I imagine many here might mutter "Up to a point, Lord Copper...up to a point".