Downton Abbey and royals 'can help UK business'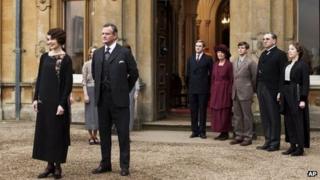 The Royal Family and TV show Downton Abbey could boost the UK's global business links, peers have heard.
Popular cultural exports should be used to help "establish a dialogue and trust" with other countries, former engineering boss David Stanley told a House of Lords committee.
After this, more firms could "hopefully do business", he added.
Peers also heard the government should do more to ensure overseas trade missions create permanent trade.
The Lords Committee on Soft Power and the UK's Influence, which is looking at ways to improve the country's image and attractiveness abroad, heard several suggestions for promoting it as a "brand".
'Paradox'
Mr Stanley, former chief executive of the Penspen Group, which operates engineering and management services, said it was important in business to "create a link".
He added: "If it's Downton Abbey or the Olympics or the opening of Parliament, they are all areas where you can establish a dialogue and trust."
The ITV show Downton Abbey, chronicling the lives of an early 20th Century aristocratic family and their staff, has been an enormous hit in the US and elsewhere.
The committee heard that the UK had to present a modern, open, hi-tech image to attract business in a competitive global market.
But John Barry, the Shell corporation's chairman in Abu Dhabi, argued that the country's traditional image was also marketable.
He said: "We must not throw out the baby with the bathwater. There's a significant number of countries where [the Royal Family] are incredibly important in creating contacts at the top level."
The committee's chairman, Conservative Lord Howell of Guildford, said: "So we now have a paradox where royalty is leading us into a new era of soft power."
During the hearing, Mr Barry praised the coalition's efforts to run overseas trade missions, where the prime minister is accompanied by leading business people.
However, he warned these should not be one-offs and that permanent relationships must be built, with UK representatives returning countries.
Lord Howell said: "You can't just tick a box and say, 'We've done Indonesia.' You have got to keep going."