Lynton Crosby goes full time for Tories in £0.5m deal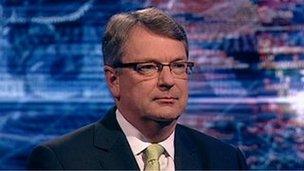 Lynton Crosby has been signed up to work full time on securing a Conservative general election victory in a £500,000 deal.
The Australian strategist has been working on a part-time basis for the party since last year.
He has been credited with sharpening the Tories' campaigning style.
But Labour said David Cameron still had questions to answer about Mr Crosby's tax affairs and links to the tobacco industry.
Mr Crosby ran Boris Johnson's successful campaign to be re-elected as London mayor, prompting Mr Johnson to advise David Cameron to "break the piggy bank" to get him on board for the 2015 general election.
His new contract secures polling services from Mr Crosby's business partner Mark Textor and support from a team of staff.
Mr Crosby also helped John Howard to win four election victories in Australia, but failed to repeat that success for Conservative leader Michael Howard at the 2005 general election.
Conservative party chairman Grant Shapps told The Sunday Times: "This is about ensuring we have the best possible campaign team and operation in place to secure a Conservative win in order that we can continue driving down the deficit, creating more jobs and cleaning up the mess left by years of Labour."
Mr Crosby has lobbied for tobacco giant Philip Morris in the past - but denied having any influence over the government's decision to shelve plans for plain cigarette packaging in England and Wales.
The tough-talking election guru is reported to have told Mr Cameron to "scrape the barnacles off the boat" by ditching extraneous policies in favour of a ruthless focus on core issues such as welfare and immigration.
He has also advised the party not to worry about the rise of UKIP, arguing that a lot of their supporters will return to the Tory fold at the election.
Commenting on his appointment, Labour MP Sheila Gilmore said: "Given the Tories are so keen to talk about the recruitment details of the lobbyist Lynton Crosby, perhaps they would care to finally answer the key questions surrounding his role, questions David Cameron has repeatedly dodged over recent months.
"The prime minister chose to bring Lynton Crosby into the heart of his Downing Street operation, yet he has refused to answer a whole range of questions, from his tax arrangements to his influence over the prime minister's decision to scrap plans to regulate tobacco advertising.
"The prime minister needs to stop dodging parliamentary questions and Freedom of Information requests and come clean. Nothing less than full disclosure will do."