Cable: Foreigners should pay more tax on second homes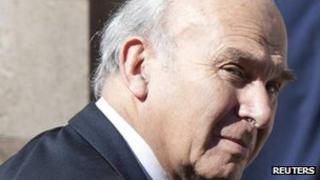 Vince Cable has said he would welcome action "to plug a loophole" exempting foreigners from paying capital gains tax on second homes.
The business secretary was responding to newspaper reports George Osborne is considering a new tax on wealthy foreigners who own property in Britain.
Mr Cable said it was an "extraordinary anomaly" that UK citizens were liable for the tax but foreigners were not.
The chancellor refused to comment on whether the idea was being mooted.
UK citizens typically have to pay capital gains tax - a levy on any profits made when an asset is sold - on non-primary residences, including holiday homes in the UK or overseas and buy-to-let investments.
Capital gains tax for high-rate UK taxpayers was raised from 18% to 28% in the 2010 Budget but foreigners are exempt from paying tax on second home transactions.
'Getting away'
Reports in the Daily Telegraph suggested the Treasury was looking at extending the liability to non-UK nationals amid concerns about the impact that foreign money pouring into the London property market is having on prices.
There has been speculation it could possibly be announced in next month's Autumn Statement on tax and spending.
Mr Osborne has dismissed suggestions he was preparing the ground for an announcement in the mini-Budget, telling the BBC Radio 4's Today programme that it was "not a leak that's come from anyone near me".
"I'm only a month off from my Autumn Statement so I'm not going to comment on specific tax affairs," he said.
But asked about the idea, Mr Cable said he would welcome any action "to plug a loophole where very rich foreigners have not been paying their share of tax".
"British people already pay capital gains tax on second homes," he said. "It's an extraordinary anomaly that people from overseas manage to get away with that, so I would certainly welcome any initiative with the chancellor on that front."
The government has sought to crack down on tax loopholes used by foreign buyers since 2010.
Individuals using offshore funds or foreign companies to buy properties will now have to pay stamp duty at 15% as well as an annual charge of between £15,000 and £140,000 on properties worth more than £2m.
But Mr Cable said any further action on capital gains would not be a substitute for additional taxes on the most expensive properties that the Liberal Democrats have been calling for.
'Flip side of exemption'
Mr Cable first floated the idea of a so-called mansion tax before the 2010 election but the measure was rejected by the Conservatives and has not been not pursued by the coalition.
"I will continue to make the case for a mansion tax," Mr Cable said. "We have enormous inequality in wealth in this country, much of this represented by property. We've got to continue to make that case."
Labour has said it would back the idea and use the proceeds to fund restoring the 10p tax band.
Shadow chancellor Ed Balls said: "Just a few weeks ago at our conference in Brighton I pointed to all these foreign investors buying multimillion-pound houses in London and not paying tax.
"That's why we've said we should have a mansion tax on the highest value properties."
But one company of property advisers warned that while targeting foreign purchasers was an "easy hit" it could have a damaging long-term effect on the UK economy.
"The exemption of capital gains tax for foreign owners unarguably represents an inequality with domestic buyers," said London Central Portfolio, which markets a number of residential property funds.
'Shell' companies
"The flip side of this exemption, however, is that it is a tax incentive, which attracts foreign investors into the UK and represents a competitive edge over other global capitals."
In a separate development, Mr Cable said he is prepared to look at the case for extending a planned list of the owners of "shell" companies, where businesses keep money offshore to avoid tax, to include property ownership.
The business secretary, whose responsibilities include the Land Registry, said he did not think unmasking the true owners of properties in the UK would aid the fight against tax avoidance.
He said at the Open Government Partnership conference in London that a building had a physical presence and "you don't need to worry too much about who else is behind it".
But he added: "If somebody wants to make the case for that, I am prepared to listen to it."