Pit bull terrier numbers revealed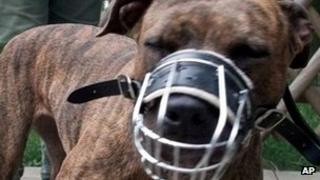 More than 2,000 pit bull terriers in England and Wales have been spared death after passing a "character assessment".
The breed was banned in 1991 but owners are allowed to keep their dogs if they are deemed not to be dangerous.
The owners must muzzle and neuter the animals and take out insurance against them injuring people.
Defra figures reveal there are currently 2,323 banned dogs that have been saved from destruction.
Some 2,317 of these are pit bulls, with four dogo argentinos and two Japanese tosas - also banned breeds.
People who find themselves owning a banned dog can seek to have their pet added to the Index of Exempted Dogs.
Such an application costs £92.40 per dog and a successful application ensures that it is not put down, provided it is neutered and microchipped - and kept on a lead and muzzled in public.
It is the figures from the Index of Exempted Dogs that have been released by Defra, following a Freedom of Information request.
In order to be added to the Index, a banned dog has to successfully complete what a Defra spokeswoman told the BBC was a "character assessment".
She added that the Anti-social Behaviour, Crime and Policing Bill that is currently before Parliament would extend such assessments to the dog's owner as well.
There are currently 113 dogs currently being assessed for registration for the Index.
A total of 602 have been added to the Index this year, up to 18 October.
Some 415 failed the character assessment and were put down.