Internet giants should answer questions on NSA links, says Tom Watson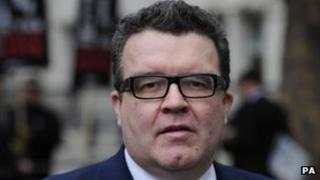 Telecoms firms should say whether they were obliged by law to give spies access to the world's main internet cables, a Labour MP has said.
Tom Watson pointed to Washington Post stories claiming the National Security Agency could freely collect data sent from Google and Yahoo email accounts.
The newspaper said the US agency had been aided by the UK's secret listening post, GCHQ, in Cheltenham.
Mr Watson said the firms should reveal how this had been allowed to happen.
'In the shadows'
Speaking in a debate in Westminster Hall, he said: "The telecoms companies had to have knowledge and probably collaborate with the procedure. Was any member of the UK government aware of this?
"Let me be clear what the Washington Post are saying: telecoms companies have been illicitly aiding the security services to tap into data being processed by internet companies with whom they have a commercial relationship.
"These telecoms companies, who are the backbone of this wonderful thing called the internet, that has allowed two decades of free expression and creativity to explode into the lives of our citizens, have been operating in the shadows, to allow our security services to tap all of it.
"The security services have clearly made the trade-off that intelligence obtained is worth the invasion of privacy. They are judged on the quality of the intelligence they obtain and little else.
"But I want to know if the telecoms companies have voluntarily entered into this agreement or if they have been obliged to under UK or USA law."
Mr Watson, a former minister for digital engagement and until recently Labour's election campaign chief, said the Tempora data collection programme had been "mining our internet communications data without public knowledge on a colossal scale".
"We only know of the existence of the Tempora programme because of Edward Snowden and the Guardian newspaper," he added.
"I think they have acted courageously in the public interest to uncover and reveal a secret government programme that has gained access to the private communications of millions of individuals without their knowledge."
'Sleepwalking'
Mr Watson sought assurances from Security Minister James Brokenshire that phone records were not handed to GCHQ and the NSA as a matter of routine.
Conservative MP Dominic Raab, a former Foreign Office lawyer who said he worked with the intelligence services, warned about the "exponential" increase in surveillance over British citizens.
He claimed the legal basis for the GCHQ Tempora programme was "thin at best", adding: "Parliament certainly had no idea of the scale of the use of these powers."
Hitting back at claims by his own party leader, David Cameron, and other senior ministers that the Guardian revelations had seriously harmed national security, Mr Raab said: "If national security were materially breached, why hasn't anyone at the Guardian been charged or even arrested since the search of their offices back in July?"
Lib Dem MP Julian Huppert warned Britain was in danger of "sleepwalking" into a surveillance state and called for an independent investigation "into powers already available to the intelligence and security services" and whether they were too wide-ranging.
He said the Guardian newspaper had been "deeply responsible" in its handling of the Snowden leaks, liaising closely with officials to ensure national security was not breached.
But Tory MP Ben Wallace, a former intelligence worker, questioned whether the newspaper had a valid public interest defence in publishing the Snowden revelations, beyond saying to its readers: "Look at how exciting technology is, look what we can do".
"Well, that is not a public interest defence," he told MPs. "That's trying to sell more newspapers."
'Strict legal framework'
Mr Wallace said Britain spied on other countries to protect itself and to further its interests.
He told MPs: "Not only do we do it well, we do it better than most across the globe and it gives Britain a place at the top table."
He suggested companies such as Google and Facebook posed a greater risk to personal data than the security services - yet he said he had not had any demands from fellow MPs to regulate the private sector.
Responding to the debate, Mr Brokenshire defended the scrutiny in place over the UK's security agencies, highlighting "the importance of intelligence gathering and in our agencies' ability to maintain an edge in tackling terrorism and stopping criminals".
"While that edge is vital to our ability to ensure national security, I absolutely agree that does not mean the activities of the intelligence agencies can or should go unchecked," he continued.
"It's absolutely right intelligence work is carried out in accordance with a strict legal policy framework that ensure activities are authorised, necessary and proportionate."
He concluded: "GCHQ neither obtains nor discloses any material accept so far as necessary in pursuit of its statutory functions, as defined in the Intelligence Services Act."