Sharon White promoted to public finances role in Treasury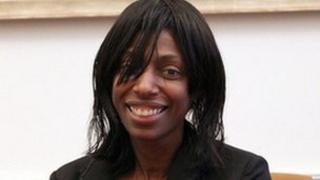 Civil servant Sharon White has been promoted to a top role in the Treasury overseeing the UK's public finances and the government's austerity programme.
Ms White, the most senior female civil servant in the Treasury, is to succeed Tom Scholar as second permanent secretary for finance functions.
She has worked in government for 25 years, including at the Department of Work and Pensions and Justice Ministry.
She is married to Robert Chote, head of the Office for Budget Responsibility.
Mr Chote is responsible for producing independent growth and borrowing forecasts and assessing whether the government has met its own fiscal targets.
Ms White will have responsibility for tax, spending and borrowing issues in her new role, one of two deputies reporting to the Treasury's top mandarin Sir Nicholas Macpherson.
It is understood the Treasury has no concerns about any potential conflict of interest, given that she is currently in a management role with responsibility for public spending decisions - including on the government's welfare reforms.
In 2011, she led a review into the Treasury's handling of the banking crisis.
She previously worked at the World Bank, the Department for International Development and the No 10 Policy Unit as well as the British Embassy in Washington.
Mr Scholar is moving to No 10 to become David Cameron's adviser on Europe.