Jam sugar limit should not be cut, MP urges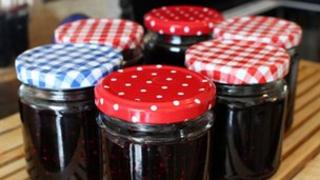 Plans to change the rules governing jam and marmalade production in England could lead to "the end of the British breakfast as we know it", an MP says.
Ministers intend to relax regulations governing the minimum level of sugar which a product calling itself jam or marmalade can contain.
The government says the change will boost the British economy.
But Lib Dem MP Tessa Munt argues this will result in cheaper, runnier spreads which have a shorter shelf-life.
Ms Munt, the MP for Wells in Somerset, is due to lead a debate on the regulations in the House of Commons' secondary debating chamber of Westminster Hall on Wednesday, in which she will urge ministers to reconsider.
She told the BBC: "I'm actually quite worried because I think this is going to be the end of the British breakfast as we know it.
"Our jams and marmalades are so important - and we know what to expect when we go into the supermarket or into our local shop or farm shops locally, we know exactly what we're going to buy when something says jam on it - or marmalade or jelly - we know exactly what to expect."
She added: "At the minute, we've got a jam that we know exactly what it's like. It's a fantastic colour, a really good shelf life - it's going to last a year - it's beautiful consistency, it's got a gloss to it.
"If these regulations change, we'll end up with something much more like the French and German product - and worse still the Americans - where they have things a bit like a fruit butter or a fruit spread.
"It's dull colours that don't taste the same and they certainly don't last as long."
Defra, the government department responsible for food regulations in England, held a consultation earlier this year.
A number of manufacturers said they would be in favour of lowering the minimum sugar requirement, officials reported.
In response to Tessa Munt's criticism, a Defra spokesman said: "Reducing the minimum sugar content in jam from 60% to 50% will help British producers - large and small - to trade more easily across the world, boosting our economy and allowing jam-lovers everywhere to enjoy delicious British jam."
The regulations will apply to England only, but Defra says that the devolved institutions in Scotland, Wales and Northern Ireland are likely to follow suit.