Immigrants need free life-saving A&E care, MPs told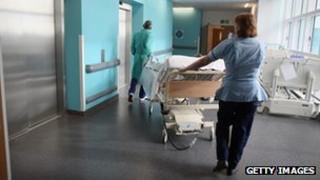 Immigrants should continue to receive free life-saving emergency care in the UK, a leading medic has told MPs.
Terence Stephenson, chairman of the Academy of Medical Royal Colleges, said "common compassion" should decide when such treatment is offered.
The government wants to introduce a £200-a-year levy towards the cost of NHS services for some temporary UK residents, including students.
It says this will help deter illegal immigrants and "NHS tourism".
The plan, part of the government's Immigration Bill, was discussed by MPs scrutinising the legislation as it goes through Parliament.
'Point of contention'
They heard there could be problems checking the authenticity of those requiring emergency services but lacking the necessary paperwork.
Clare Gerada, chairman of the Royal College of General Practitioners, said this was the "main point of contention" over the bill.
She added: "Say there's a life-threatening illness, but you can't carry on because there's a remedial problem... you are going to change the whole way I've been working for 30 years as a doctor."
Professor Stephenson said: "I would hope that, if you have an accident in Germany and you break a leg... you would get common compassion.
"I think people will recognise that people from other countries will need this."
He argued there was a difference between routine and emergency treatments, saying: "If I did not have medical insurance and I was stabbed in the street in Hong Kong, I would surely hope someone cares for me. But if I had a cold and no medical insurance, I would have to pay."
The Immigration Bill, published earlier this month, would restrict access to public services to which they are not legally entitled.
This, according to Home Office minister Mark Harper, would "reduce the pull factors which encourage people to come to the UK".
Other measures in the bill include reducing the number of grounds for appeals against deportation orders, restricting access to bank accounts for people in the country without permission and forcing private landlords to quiz tenants about their immigration status.
The bill was voted through by MPs last week, with Labour backing it, but leader Ed Miliband says more needs to be done to ensure immigrants do not undercut UK citizens by working illegally for below the minimum wage.
The full House of Commons will debate the government's plans again after the committee has finished scrutinising them.