Visa checks 'could put landlords in physical danger'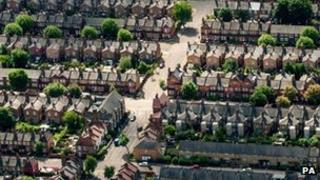 Landlords could be put in physical danger by being asked to check the immigration status of their tenants, MPs have been told.
Under government plans, private landlords would have to inquire whether prospective tenants are living in the UK legally.
The National Landlords Association said property owners confronting tenants could be accused of harassment.
But the government said the system would be "effective and light-touch".
Ministers say voluntary checks carried out by some landlords at the moment have identified people not entitled to be in the UK and it wants to make this mandatory as part of its Immigration Bill.
'Nothing to fear'
From October 2014, landlords would be expected to carry out "straightforward" background checks on new tenants.
Ministers insist they do not expect landlords to become immigration experts and that property owners "taking simple steps have nothing to fear".
Unlike employers who knowingly hire illegal immigrants, landlords renting out rooms to those not entitled to be in the UK will not face criminal penalties although they will be liable for fines.
Ministers say they want to minimise the administrative burden on landlords and if a landlord has not had an answer from the Home Office within 48 hours of sending documentation, they can go ahead and rent.
But Richard Jones, from the Residential Landlords Association, told a committee of MPs scrutinising the bill that he believed the proposals were "unworkable".
He said he had been told that 10 Home Office staff were being assigned to help landlords and that "very little" in the way of additional resources was being made available to make them aware of what was expected of them.
The Border Agency, with its budget of more than £2bn, had struggled to keep track of immigrants, he suggested.
"Therefore how can we expect a whole host of small landlords to do anything better than the Border Agency have been able to achieve?" he said.
'Under threat'
National Landlords Association chair Carolyn Uphall said the principle of having to undertake pre-tenancy checks was not in question.
But she said landlords were in a totally different position from employers, having fewer resources at their disposal, and asking them to keep tabs on tenants on a regular basis could result in "dangerous and unintended consequences".
This could lead to tenants disappearing without notice or barring landlords from a property, meaning basic health and safety checks could not be carried out, and at worst, she argued, it could put some landlords at physical risk.
"Landlords simply cannot walk in the property and require the tenant to speak to them," she said. "If a landlord just turns up unannounced that can be harassment and a criminal offence.
"In the worse scenario, the tenant feeling themselves possibly under threat - because they might be sent out of the country and perhaps back to a war zone they are very frightened off - could potentially become aggressive with the landlord.
"You only need one incident where the landlord and tenant get in some sort of physical situation for that publicity to put all landlords off even considering taking on anyone on a temporary visa.
"Then you have all those people as vulnerable tenants forced into the underclass of rogue operators who will not care who take and certainly will not inform the immigration authorities."
'Best practice'
Universities UK said it already vetted foreign students and that asking landlords to duplicate this was unnecessary.
And the Association of Letting Agents said it was already "familiar" with having to carry out visa checks and it welcomed the government's proposals to make this compulsory.
Labour's shadow policing minister David Hanson said there was a "shared objective" across the Commons to bear down on illegal immigration and landlords had to do their bit - while accepting the bill could be amended to make it "more palatable" for them.
The government maintains that landlords will not have to confront tenants they suspect of being in the UK illegally and will merely have to notify the Home Office of their suspicion, which will be treated in confidence.
Immigration minister Mark Harper said: "There is no doubt that immigrants have helped make Britain a richer and stronger society, but we must take firm action to address illegal immigration.
"We will be requiring all landlords to ensure that prospective tenants are here legally. This is in line with existing best practice across the rental sector.
"We do not want to disadvantage legitimate landlords and tenants and have devised a system which will be effective and light-touch while making it tougher for illegal immigrants to rent property, but giving us the powers to take robust action against rogue landlords."