Watchdog urges rethink over EU referendum question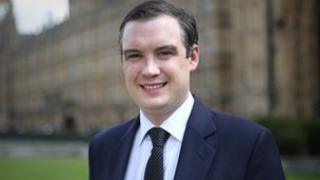 The wording of a proposed referendum question about the UK's membership of the European Union should be changed to avoid confusing some voters, the Electoral Commission has said.
The Conservatives want to hold a referendum in 2017 asking people: "Do you think the UK should be a member of the European Union?"
But the watchdog said some people were unaware the UK was already a member.
It has suggested two alternatives to ensure as "much clarity as possible".
A private members bill paving the way for a referendum on the UK's membership is currently being considered by the Commons and will be debated again by MPs next week.
The bill, tabled by Conservative MP James Wharton, has the backing of the prime minister David Cameron but is not guaranteed to become law as it is opposed by both Nick Clegg and Ed Miliband.
'Clear and unambiguous'
It would ask people to vote on the question "do you think the UK should be a member of the European Union?"
The watchdog said any referendum question must be "clear, unambiguous and to the point" but that its testing had suggested that some people did not know whether the UK was a member of the EU or not and that this "presented a risk of misunderstanding".
But it said a simple yes/no question which made clear that the UK was already a member "presented difficulties with some element of perceived bias remaining in each version tested".
It says Parliament faces an "important decision" on whether it wants to stick with a yes or no question - traditionally used in referendums over the past 40 years.
If so, it recommends the following question: "Should the UK remain a member of the European Union?"
But if not, it suggests the public should be asked "should the UK remain a member of the European Union or leave the European Union?" and put a cross by the section of the ballot paper marked either "remain" or "leave".
The watchdog said those taking part in its research believed the latter question was the "most neutral" and that it would carry out fresh testing if the bill was amended to that effect.
Jenny Watson, the watchdog's head, said it had taken voters' views into account when considering the various permutations and to ensure public could cast their vote "with confidence".
"We are presenting two possible questions to Parliament: one that keeps with the recent tradition of yes/no referendum questions, and an alternative in a different format which was perceived by voters to be more neutral."
"Parliament will now need to discuss our advice and decide which approach the Bill should take."