Lobbying opponents call for pause in 'muddled' bill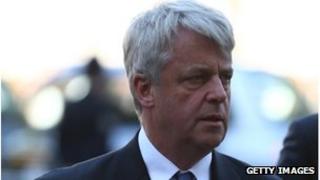 Opponents of the government's lobbying bill have called for the legislation to be put on hold, warning that it will "alienate" large sections of society.
Plans to reduce the amount campaigning organisations can spend in the year before an election have been fiercely criticised by the voluntary sector.
The chair of the Countryside Alliance, Baroness Mallalieu, said the body would not be able to hold a march or a rally.
But Commons leader Andrew Lansley said it would not curb their activities.
The bill - brought forward following allegations about the influence of lobbyists on government decision-making and the involvement of peers and MPs with lobbying groups - was intended to improve transparency and confidence.
But campaigners from all sides of the political spectrum have said the proposals - which would reduce the cap on what any third party organisation could spend across the UK in the run-up to and during elections from £961,500 currently to £390,000 - would muzzle political debate.
The government made a series of concessions in September, including on the key question of how regulated spending would be defined under the law.
But a commission set up by 40 charities and pressure groups - including the Countryside Alliance, the National Secular Society and Oxfam - to scrutinise the proposals have claimed they are still fundamentally flawed.
'Rushed in'
Labour peer Baroness Mallalieu, president of the Countryside Alliance, said the bill was a "complete muddle" and was being "rushed in" without proper consultation.
"Everybody agrees that we should have more transparency and the electorate should know who is putting money into campaigns and how much," she told BBC Radio 4's Today programme.
"If it goes through in its present form, which I don't believe it will, it will reduce the ability of people who are keenly involved in politics outside party politics to play an active part in the democratic process."
Reducing the amount organisations would have to spend on activities deemed to promote a party or an individual candidate before being required to register would impose an "enormous" administrative burden, she said.
Ministers claim they are bringing rules on campaign activities for third party organisations broadly into line with those for political parties but the Labour peer said they would actually leave voluntary organisations at a disadvantage.
"The definition of what we are allowed to do is so unclear we don't believe we could have a hustings," she added. "We don't believe we could have a rally or a march."
"At a time when people are not joining political parties and their membership is dropping, surely we want to encourage people to take part in the democratic process."
She urged ministers to sit down with representative of the voluntary sector, the Charities Commission and the Electoral Commission to improve the legislation - which is currently being considered by peers and MPs.
"If only the government would get together now and pause this part of the bill... we could come up with a superb bill which is clear and would do what we all want."
'In the open'
But Mr Lansley, who is responsible for the bill, told Today the government had listened to concerns and made a series of changes - adding that the Charities Commission was "broadly content" with the current position.
"When third parties engage in the political system, the public should be able to see that, whether it is lobbying ministers or spending money at an election when the purpose of that is to try and influence that election," he said.
The Commons leader said the type of activities organisations would be able to undertake would be no different at the next general election in 2015 than it had been in either 2010 or 2005.
"The point of the bill is that is that it does not gag anyone from engaging in that kind of activity at an election.
"They can go out and canvass for candidates but if they spend a significant amount of money trying to influence an election for a party or candidate, they have to register and declare it.
"They are not stopped from doing it. They simply have to do it out in the open."
MPs approved the principle of the legislation - called the Transparency of Lobbying, non-Party Campaigning, and Trade Union Administration Bill - in September but many Tories and Labour MPs called for significant changes.
The cross-party Political and Constitutional Reform Committee said the reforms were "flawed" and "unnecessarily rushed", and suggested they were withdrawn for six months while they were improved.