Is Labour really going to oppose HS2?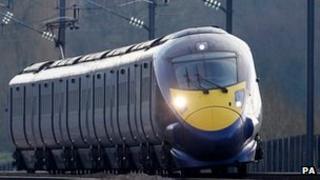 Is Labour on an inexorable path towards opposing HS2? That appears to be the consensus at Westminster. But I am detecting a whiff of revisionism within Labour ranks, a sense that the party might have over-reached itself in its expression of doubt about the project. Here is why:
1. Ed Miliband is a supporter of HS2. His spokesmen say this. His friends say this. His shadow cabinet ministers say this. Yes, he wants the scheme to provide good value for money. But they say he is a conditional supporter of HS2, not an opponent looking for a way out. It was only in March of this year that the Labour leader told the Coventry Telegraph: "I am convinced by the business case and I am convinced by the economic and social case... the economic case is, we need a country that is connected... and the social case is, we are just way behind other countries in not having high-speed rail."
2. Ed Balls' aides insist that no decision has been made and there is an open debate to be had and that if there is no other way of creating more capacity on the railway, if the new chief executive keeps the costs down, then Labour will support HS2. The shadow chancellor, they admit, might be more sceptical than others in the shadow cabinet but they say he has a "constitutional duty" to worry about money. That is his job. It is also worth noting that in Mr Balls' conference speech - no, not this year's, but last year's, he said that it would be "ridiculous" for Tory MPs to block HS2. "No wonder business is fast losing confidence in this government's ability to make long term decisions." So that's clear then.
3. All sides accept that the shadow cabinet is divided on this. And that is true of the rest of the Labour Party, whether MPs or council leaders in the north of England. And that means that any decision to vote no to HS2 would be hard fought and not without cost.
4. Concern about whether the current plans for HS2 will provide value for money would be a legitimate worry for any shadow chancellor. They have been echoed by the National Audit Office and the Treasury select committee. But if you have convinced yourself that you are going to become the actual chancellor in less than two years, you don't want a £16 billion spending commitment to spiral out of control. In other words, Ed Balls might actually mean what he says.
5. Mr Balls can be sceptical and display what he sees as his fiscally-prudent tail feathers without actually killing off HS2. Simply by keeping the doubt and uncertainty about HS2 going for months, if not years, he can remind viewers in every interview how prudent he is being. To use his current phrase, he wants to be seen as a "proper steward of public money", which is not an office-of-profit-under-the-crown that means you have to resign from Parliament, but a name a politician gives himself when he knows that people have yet to trust him to spend their taxes wisely.
6. Talk of a £16bn pot of cash hanging there for Labour to spend on other stuff is overblown. If Labour opposes HS2, the government will cancel the project. The Treasury will then re-allocate the cash elsewhere. If Labour came to power, it would still have to switch spending priorities. And Labour officials readily admit that if they did kill HS2, they would have to use most of the £16bn on an alternative rail project to deal with the capacity crisis. What money was left, they say, they would have to spend on capital projects, not day-to-day spending.
7. Labour once marched to Peter Mandelson's tune. But no more. So when the former cabinet minister stands up in the House of Lords and denounces HS2 as a "political trophy project", not everyone will follow him.
8. The north of England matters to the Labour Party. Yes, opinion is divided and some Labour figures in the north see HS2 as a way for rich people to get to London quicker. But many other Labour folk in Manchester, Newcastle, Leeds, Sheffield and Nottingham see the line as a potential driver of economic activity in their patches. To scrap HS2 would not be very One Nation, so to speak.
9. Killing HS2 would open Labour up to accusations that it is anti-business, anti-investment, anti-growth, a party that is willing to play politics with long term infrastructure investment. Whatever the fairness or not of those accusations, it would be an unnecessary distraction when a substantial part of your strategy is to try to convince voters that you have something meaningful to say about the economy.
So will Labour definitely oppose HS2? I think the case is not yet proven.
And do not expect a decision soon. Some say Labour will decide before the spring when legislation giving the government the legal authority to start building HS2 comes before parliament, just before the local and European elections. But I am told that Labour could make up its mind even later, closer to the election in 2015.
So this story will run a while yet.