Ticketmaster gets £350,000 in fees for Parliament tours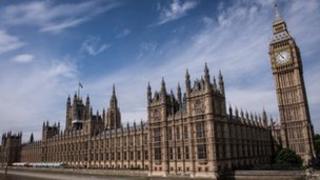 Labour has questioned Parliament's relationship with a ticketing firm after it emerged the company had earned more than £350,000 in fees for selling tour tickets since the start of 2012.
MP Luciana Berger said: "Taxpayers have a right to expect value for money.
She urged parliamentary authorities to see whether the arrangements "represent the best possible deal for the public".
Ticketmaster said it was "proud" of having worked with Parliament to bring about a sharp rise in visitor numbers.
Visitors can book £16.50 advance tickets through the firm.
It was revealed that Ticketmaster received £194,000 in fees last year, and £170,000 so far this year.
Ms Berger said the fees paid to Ticketmaster represented a lot of money when there was huge pressure on public sector budgets.
'Best deal'
But spokesman for Parliament said the contract was decided by a competitive tender, won by Ticketmaster in 2009.
He said: "The contract has recently gone out to tender again. Bids are in the process of being evaluated. The objective, as with all procurements, is to get the best deal."
Parliament sold advance tickets worth almost £2m over the period.
Members of the public can also arrange tours for free with their MP, or queue for tickets to the public gallery of the House of Commons.
A spokesman for Ticketmaster said there had been a sharp increase in visitor numbers since it started working with Parliament, which meant a higher income for the parliamentary authorities.
"We are proud of our partnership with the Houses of Parliament and the role this has played in promoting visits - thereby providing a better understanding of its role to people at home and overseas," the spokesman added.