MPs reject government's preferred NHS regulator candidate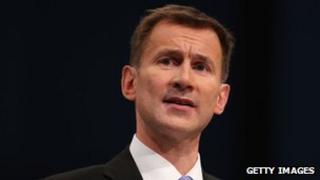 MPs have rejected Jeremy Hunt's choice of candidate to lead England's health service regulator.
Dominic Dodd was not "the right person" to take over from current Monitor chairman David Bennett, the health select committee said.
The committee divided along party lines, with three Labour MPs out-voting two coalition ones.
But the decision is not binding on the health secretary, who is said to be considering his next move.
The committee released a brief statement on its decision, after it had grilled Mr Dodd at a pre-appointment hearing.
It said: "Dr Bennett has both shaped and interpreted the role that Monitor now plays in the system, which makes the transition to another individual taking on the chair an especially difficult one.
"We do not think Mr Dodd is the right person to undertake that difficult transition. On this basis we do not endorse Mr Dodd's appointment."
Endorsement
The Conservative chairman of the committee, Stephen Dorrell, initially proposed that the committee should approve Mr Dodd's appointment but review his progress after six months, putting on record that it wanted to "hear further from him about how he plans to hold the chief executive to account and handle conflicts of interest".
But a motion to withhold the committee's endorsement was put forward by Labour MP Barbara Keeley and backed by Labour colleagues Grahame Morris and Valerie Vaz.
It was opposed by Conservative MP Sarah Wollaston and Liberal Democrat Andrew George. Mr Dorrell did not vote.
The other Conservative members of the committee, Charlotte Leslie, Andrew Percy and David Tredinnick, did not attend the meeting on Wednesday.
In a letter to the committee ahead of the meeting, Mr Hunt named Mr Dodd as "my preferred candidate for appointment".
Currently the chairman of the Royal Free London NHS Foundation Trust, Mr Dodd is also director of an academic health science system, UCL Partners, and non-executive director of Permanent TSB Group Holdings.
He was previously a senior executive at management consultants Marakon Associates, whose clients include private healthcare firms.
Under reforms of the NHS introduced by the coalition, Monitor is responsible for making sure public sector health providers are well led and overseeing choice and competition in the sector.
A Department of Health spokesman said: "We have received the Health Select Committee report and will announce the next steps shortly."