Jack Straw on the perils of ministerial interviews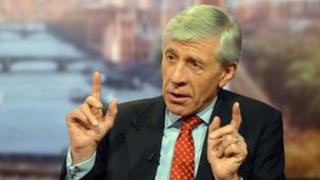 Ex-foreign secretary Jack Straw says he is driven mad by ministers who "read out rubbish" in interviews written by "the teenaged scribblers inside No 10".
Mr Straw appeared to be directing his remarks both at the coalition and some of his former colleagues in the previous Labour administration.
People were wise enough to notice when politicians "sound false", he added.
The Labour MP said he had "tried to avoid that fate - it is for others to judge whether I have".
Mr Straw was explaining the doctrine of collective responsibility, under which cabinet ministers are supposed to speak with one voice on a policy after they have reached a decision, at an event on truth in public life.
"Institutions would fall apart if you didn't maintain collective responsibility," he said.
But the approach has its drawbacks, he continued: "You end up in a situation sometimes where you're having to explain a policy which you not only don't support but actually argued against in cabinet."
The MP, who was home secretary from 1997 to 2001, then foreign secretary until 2006, and justice secretary from 2007 to 2010, said: "I personally am still driven mad, and I was at the time, by people who picked up the briefs which were produced by the teenaged scribblers inside No 10 and were expected just to read them out.
"You can sometimes hear them when you're listening to the Today programme, reading out this rubbish, and these clichés which they've learnt."
His comments came in a debate entitled An Anatomy of Truth, produced by Intelligence Squared and the Westminster Abbey Institute, which took place in Westminster Abbey on Tuesday.
It was of "absolutely critical importance" for ministers wanting to sound credible to translate their policy briefs into their own words, Mr Straw concluded.