David Cameron vows to 'look' at curbing bookies' roulette machines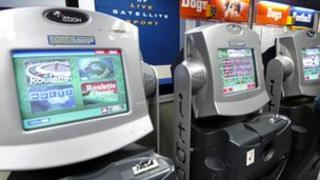 David Cameron has promised to take a "proper look" at whether high stakes roulette machines should be banned from betting shops.
He was responding to a question from Labour MP Tom Watson, who said the "addictive" machines had transformed the "local bookies" into "High Street digital casinos".
He called on the government to follow Ireland's example by banning them.
Mr Cameron said it was "worth having a proper look at this issue".
Fixed Odds Betting Terminals, which allow punters to gamble up to £100 every 20 seconds, have fuelled a boom in betting shops on Britain's High Streets.
Takings from the machines now account for nearly half of the big bookmakers' annual profits, despite being limited to four terminals per shop.
Critics say the machines are highly addictive and lead to crime and poverty but the gambling industry says there is no hard evidence of this and have promised a new code of conduct to allow players to limit their own stakes.
'Decent approach'
Fixed Odds Betting Terminals had been included in a three-yearly review of the last Labour government's 2005 Gambling Act, which also covered fruit machines in pub and cafes, as well as high stakes machines in casinos.
But Culture Secretary Maria Miller last month ruled out calls to dramatically reduce the stakes and prizes on the machines, keeping the maximum stake at £100 and the maximum payout at £500.
A separate investigation, by the Responsible Gambling Trust, is being carried out into the potential harm caused by Fixed Odds Betting Terminals and whether they are as addictive as campaigners claim.
The DCMS has promised to review the outcome of the Responsible Gambling Trust probe in September, when it could take action to reduce stakes and prizes without passing primary legislation.
David Cameron appeared to suggest, at Prime Minister's Questions, that the government could go further than that.
He said he had been lobbied by MPs on all sides and said "I do think it is worth having a proper look at this issue, to see what we can do to make sure that, yes, we have bookmakers that are not over-regulated.
"But, on the other hand, a fair approach and a decent approach that prevents problem gambling."
But Adrian Parkinson, of the Campaign for Fairer Gambling, said he did not hold out much hope of the government taking action before the next election in 2015.
"It was a pretty vague answer... but at least it's on his agenda.
"Somebody needs to make a decision about what to do. These machines have been around for 10 or 11 years now."
The Lib Dems backed calls to give local councils the power to limit the number of betting shops in their area, in a party conference vote last month.
The Fixed Odds Betting Terminals issue has also been taken up by a number of MPs concerned about the proliferation of bookmakers in their constituencies, particularly in poorer areas.
Tom Watson, who recently stood down as Labour's general election campaign chief, said in a blog for the Huffington Post last week that "these pernicious machines are destroying the lives of the poorest in society".