'Plebgate': Police officers stand by account of Mitchell meeting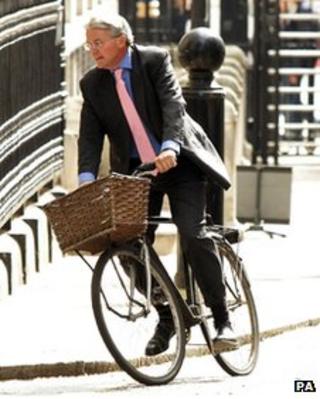 Three police officers involved in a dispute with Andrew Mitchell about the "plebgate" affair say they do not owe an apology to the former chief whip.
They told MPs that they stood by their "accurate" account of a meeting with Mr Mitchell in October 2012.
Mr Mitchell, who resigned over the row, has challenged the officers' claim that he was not open about the incident.
But Chris Jones, from West Midlands Police, said he was "not convinced we have done anything wrong".
No action was taken against Sgt Jones, Insp Ken MacKaill, of West Mercia Police, and Det Sgt Stuart Hinton, of Warwickshire Police, following an internal review by the forces concerned into their conduct.
But the head of West Mercia Police told the Commons Home Affairs Committee the handling of the affair had been "clumsy" and the report and its recommendations should be independently reviewed.
'Room for doubt'
However, the chief constables of Warwickshire and the West Midlands said they did not feel the same because they believed the original decisions had been properly reached.
Sgt Jones, Insp MacKaill and Det Sgt Hinton's meeting with Mr Mitchell took place weeks after an altercation at the gates of Downing Street where the Tory MP was accused of swearing at police and calling them "plebs" - allegations that he has always denied.
In a briefing after the meeting, the officers - all members of the Police Federation - told journalists that Mr Mitchell had refused to elaborate on what he did or did not say during the original incident.
Mr Mitchell insists a transcript of the meeting, which he secretly recorded, shows that he apologised for swearing and expressly denied that he had used the word "pleb".
Asked by Labour MP Keith Vaz whether he owed an apology to Mr Mitchell, Mr MacKaill said no and insisted he stood by "what I believe was an accurate account of the meeting".
He said he believed he had been right to call for Mr Mitchell to resign - believing at the time that his alleged behaviour in Downing Street represented a "casual dismissal of police integrity".
Although serious questions have since been raised about the credibility of police reports about Mr Mitchell's conduct, Mr MacKaill said he had "no way of knowing that at the time".
Mr Hinton said the three had shown "poor judgement" in speaking to the media immediately after the meeting without time for reflection about what had been discussed.
He said he was prepared to apologise to colleagues, the public and "anyone else involved" if the three "may have said things which could be interpreted as being misleading".
But he added: "We certainly did not intend to do that and we certainly did not lie intentionally." And he said he believed there was "no conspiracy to unseat" Mr Mitchell.
But Conservative MP Michael Ellis, a member of the committee, accused the officers of "disgraceful conduct", saying they had "spun a yarn to the press to get someone out of high office".
Mr Vaz said their answers had been "most unsatisfactory" and he would be calling their media adviser, John Gaunt, to answer questions about his role in the affair.
'Room for doubt'
Earlier, Chief Inspector Jerry Reakes-Williams, who led an inquiry into the October 2012 meeting and whether the officers had tried to discredit Mr Mitchell, said he believed the trio should face disciplinary action.
Mr Reakes-Williams, head of professional standards at Warwickshire and West Mercia Police, said the officers' comments to the media "may have had the impact of misleading the public about what happened" as they had given the impression that Mr Mitchell had not sought to explain what happened outside Downing Street.
However, he said he did not believe there had been "a deliberate intention to mislead" as there was "some room for doubt and interpretation" about whether Mr Mitchell had given an "absolutely full account" of what took place.
He said he believed the officers should face misconduct charges but not the more serious charge of gross misconduct which, if proven, would result in potential dismissal.
West Mercia Police ultimately concluded that there was no case to answer for misconduct or gross misconduct, a decision which the Independent Police Complaints Commission said it disagreed with.
But Chief Constable David Shaw, head of West Mercia Police, said he now believed the report should be independently reviewed, suggesting the whole episode had been "unedifying" and had damaged public confidence in the police.
He also said he had written to Mr Mitchell to offer him a "profound and unreserved" apology for what had happened.
Very unsatisfactory'
Also giving evidence to MPs, the deputy chair of the IPCC Deborah Glass said the transcript and recording of the meeting indicated Mr Mitchell had "answered the questions he was asked".
The police investigation had been "thorough and sound" but she believed its conclusions were wrong. "The evidence and conclusions were so at odds that I thought I had to put that on the public record," she said.
At the time of the October 2012 meeting, the Police Federation, which represents rank-and-file officers, was involved in a dispute with the government over changes to police pay and employment conditions.
Mr Mitchell's friends have accused them of pursuing a political agenda and called for root-and-branch changes to guarantee police accountability.
Eight people, including five police officers, have been arrested and bailed over the original altercation at the security gates to Downing Street amid claims that details of the incident were falsified.
The Crown Prosecution Service is currently considering charges.