BBC should become mutual company - Dame Tessa Jowell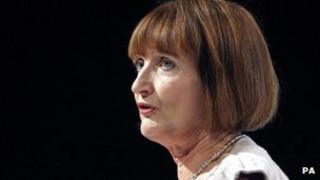 The BBC should become the UK's biggest mutual company to make it more accountable to licence fee payers, a former culture secretary has said.
Labour's Dame Tessa Jowell told MPs this would "raise public confidence" following recent difficulties.
Mutual companies are owned by all members, with no external shareholders.
Dame Tessa said this arrangement would put the public "in the driving seat" and allow them a greater say, and prevent government interference.
The MP for Dulwich and West Norwood, who left frontbench politics last year after working on the Olympics, said such a move could transform accountability at the BBC.
Her comments come after negative publicity over pay-outs to top executives and the handling of the Jimmy Savile scandal.
'Concern'
Dame Tessa said: "It is the public and the licence fee payers who should be in the driving seat. So the argument would be the BBC should indeed be owned by its licence fee payers. The BBC should become the country's biggest mutual."
This would protect the remit of the BBC Trust, which oversees standards, she said.
She added: "There is public concern about government involvement threatening the independence of the BBC and there is, I believe, public support for the sort of proposal (of mutualisation) which would strengthen the Trust's hand in relation to the executive.
"It would be absolutely clear the Trust is the cheerleader for the licence fee payer."
Mutual companies do not have external shareholders but all members of the company are considered owners. Money is reinvested back into the company rather than paid out as dividends.
The current royal charter allowing the BBC's licence fee expires at the end of 2016 and MPs have been discussing its future in a backbench debate.
Conservative John Whittingdale, chairman of the Commons Culture Committee, said there had been some "very clear failures" by the BBC in the last 12 months, but added that it remained "one of the finest broadcasters in the world".
Director-general Tony Hall and the chairman of the BBC Trust, Lord Patten, will appear before the committee on Tuesday to discuss the BBC's annual report.