Green energy levy to cost almost £37m extra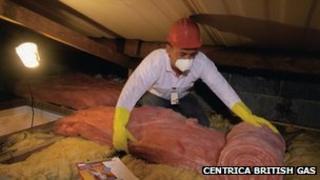 The annual cost of a green levy on energy companies is expected to be almost £37m higher than originally thought, officials have said.
According to the Department of Energy and Climate Change, the Energy Company Obligation is now expected to cost more than £1.3bn by the end of the year.
Administrative costs have also reached £35m.
The scheme provides heating measures and better insulation and for low-income households.
Customers are expected to pay an average of £50 each year to fund the Energy Company Obligation (Eco).
A document published by the department shows some suppliers are discharging their obligation much more cost-effectively than others.
One element of Eco aimed at reducing carbon emissions in deprived areas and rural households costs the most expensive supplier £136.41 to deliver per customer. The lowest reported cost was £38.20.
The document says the figures are "only indicative" of the amount energy suppliers are likely to pass to customers.
The central estimate in the government's impact assessment for the policy was £1.3bn. The new figure is £36.7m higher. So the department argues that costs remain "in line" with that estimate as the rise is relatively small compared with the original total.
The figures are "unverified" costs reported by energy suppliers.
The group that represents the energy industry, Energy UK, warned that costs could rise higher.
It said: "We also know it is still relatively early days and costs could go up significantly over the lifetime of the scheme as the mix of measures installed in consumers' homes changes.
"It's important that consumers understand the make-up of their electricity bill, and how the £50 being added to their bill is spent, in order that as many households as possible benefit. It serves no-one, least of all the consumer, to hide the costs involved."
Energy industry figures have criticised the Eco scheme as complicated and expensive to administer.
But Energy Secretary Ed Davey said: "Labour ducked the issue and left a growing problem for the consumer."