Jumpergate - the story that wasn't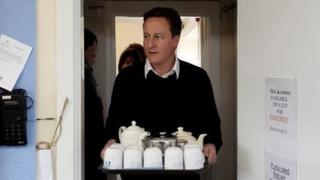 This week at Westminster has been dominated by one topic: energy prices.
It is a case study of the biggest theme in politics at the moment, the cost of living.
With British Gas joining energy provider SSE in hiking its prices, what are people feeling the squeeze and fearing the cold supposed to do?
Enter, stage left, the humble jumper. And welcome to a brief snapshot of how headlines sometimes appear despite what might have emerged out of the lips of politicians and their advisers.
Energy Secretary Ed Davey spent much of Thursday touring TV and radio studios criticising British Gas and suggesting people should shop around for the best energy deal.
In an interview on the BBC's Newsnight, he was asked about what happened in the Davey household.
Great story
Did Mr Davey, presenter Jeremy Paxman asked, wear a jumper?
"I am sure people do wear jumpers, I wear jumpers at home, but you are missing the point here Jeremy, we do need to help people with their bills, I am extremely worried about them, we can use competition the way we have, we can make our homes warmer and use less electricity and gas by going more energy efficient," said Mr Davey.
Cue headlines suggesting the energy secretary said wear a jumper. Great story.
Except he didn't say this. Mr Davey was asked about jumpers. Mr Davey mentioned jumpers. But Mr Davey didn't say you or I should wear a jumper.
Fast forward 12 hours to Friday's briefing for Westminster journalists, which is conducted by one of the prime minister's official spokesmen.
The Daily Mirror - which is no fan of the coalition government - chased this theme with some vigour.
The clear aim of the questions was to attempt to get an answer along the lines of "the prime minister tells you to wear jumper".
Another great story
If he'd said that, I'd have been jumping at the chance to get on the television, radio and online to tell it.
But he didn't.
Here is the exchange, as I scribbled it in my notebook:
Reporter: "Does the prime minister wear a jumper at home?"
Official Spokesman: "The prime minister doesn't tend to give fashion tips."
Several further questions along the same lines came along, which didn't get very far.
The spokesman was then asked about what the PM thought of charities giving advice that perhaps people should consider wrapping up warm.
Here was the response: "Clearly, he is not going to prescribe necessarily the actions individuals should take about that. But if people are giving that advice, that is something that people may wish to consider."
Next came the headlines claiming the prime minister was suggesting people should wear a jumper. Great story.
Except the spokesman did not say this.
Labour leapt at the chance to have their say, claiming Downing Street was in chaos and offering Ed Miliband for interview.
Downing Street then issued a statement: "To be clear, it is entirely false to suggest the Prime Minister would advise people they should wear jumpers to stay warm. Any suggestion to the contrary is mischief-making."
And so concludes the story of a story which isn't really a story at all.