Lib Dems 'tend to veer left like a faulty trolley', says ex-minister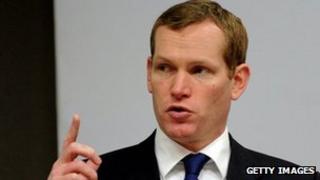 Lib Dem MP Jeremy Browne, who was sacked as a Home Office minister in a recent reshuffle, has compared his party to a faulty shopping trolley that "defaults to the left".
In an interview with the Times, he said he had spent years trying to exert "corrective pressure" on the Lib Dems to make them a "party of government".
Now they were in danger of becoming a "party of protest" again, he warned.
"We must avoid facing inwards," he told the newspaper.
Mr Browne had been regarded as one of Lib Dem leader Nick Clegg's closest allies before the reshuffle and a rising star within the party.
He was replaced at the Home Office by fellow Lib Dem MP Norman Baker, seen as being on the left of the party.
Mr Browne described his sacking as "puzzling" and "a bit painful".
"I saw my role, and continue to do so, as doing everything I can to accelerate the Lib Dems' journey from a party of protest to a party of government," he said.
Wealth-creation
The MP for Taunton Deane, in Somerset, continued: "If the Lib Dems look ambivalent about being in government we can hardly then complain if people assume that its successes must be down to the party that doesn't look ambivalent.
"You can't be half in and half out of government. We have to avoid the trap of looking like a party that is a reluctant party of government and looking uncomfortable and that we'd be grateful to be relieved of our collective responsibilities.
"There is a role in politics for stopping things you don't want to happen, but I want the greatest emphasis to be on what we have managed to achieve rather than what we have managed to prevent the Conservatives from achieving."
Mr Browne was appointed a Foreign Office minister when the Lib Dem/Tory coalition government was formed in 2010 and was moved to the Home Office in 2012.
At the Lib Dem conference in September, he accused the Liberal Democrats of being "uncomfortable" with wealth creation and always wanting "to demonstrate our disapproval of people becoming wealthy and successful and creating jobs in our economy".
He also called for a debate on whether Muslim girls should be banned from wearing full-face veils in some public places.
He ruled out defecting to the Conservative Party in his Times interview, saying he had turned down the offer of a meeting with Tory chairman Grant Shapps. He told the newspaper he planned to fight the next election as a Liberal Democrat.
"I had no intention or desire to defect to the Conservatives," he added.