Liberal Democrats 'Stalinist' over Lobbying Bill, says Labour peer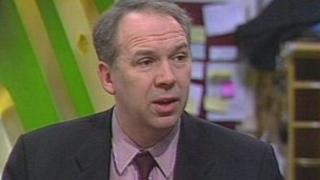 The Liberal Democrats are being "Stalinist" in pushing for the Lobbying Bill to be passed by Parliament, a senior Labour peer has claimed.
Lord Bassam, shadow chief whip in the House of Lords, said Nick Clegg's party was wary of losing MPs through campaigns by student groups.
He added the bill, aimed at cutting groups' campaign spending on elections, would make Lib Dems less "vulnerable".
Ministers say the bill will make politics more transparent
The Transparency of Lobbying, non-Party Campaigning, and Trade Union Administration Bill would set a £390,000 cap on the amount any organisation - excluding political parties - could spend helping candidates across the UK during elections.
'Puzzled'
Charities, trade unions and other organisations argue this could hamper their work.
But the government, which has made some amendments to the proposed legislation after complaints from MPs, argues that change is needed to curb the influence on political contests of unaccountable groups.
Speaking to The House magazine, Lord Bassam said the Lib Dems feared concerted attacks on their vulnerable parliamentary seats in revenge for the party's U-turn on increasing university tuition fees in 2010.
He said: "I'm rather puzzled why the Lib Dems in particular are supporting it [the Lobbying Bill]. Some cynics have suggested that it's because Lib Dem MPs and candidates are vulnerable to particular campaigns, and the one that everybody mentions is the NUS [National Union of Students] tuition fees.
"So perhaps the Lib Dem Stalinism on the issue down at the Commons end is partly explained by that. The Tories seem to be rather looser on the subject than the Lib Dems so there's something in that argument."
Lord Bassam added: "The Lib Dems are really nervous about losing their MPs, and they seriously think they'll be targeted.
"The Lib Dem base is Stalinist-like, whereas the Tories are a bit more flaky because they can see the argument [against the bill]."