Army reforms denounced in Commons vote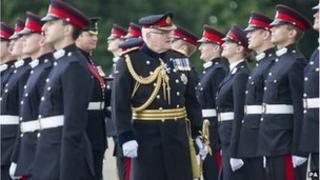 MPs have backed a motion urging the government to delay the disbandment of certain Army units.
The motion, introduced by backbench Conservative MP John Baron, called on ministers not to dissolve regular regiments until plans for overhauling reserve forces are finalised.
Ninety-two MPs voted in favour of Mr Baron's motion. None voted against it.
Those who backed Mr Baron included 18 Conservatives and two Liberal Democrats.
Backbench business motions are not binding and, since the debate was not whipped, it is not counted as a government defeat.
'Low ebb'
Mr Baron, who served with the Royal Regiment of Fusiliers in the 1980s, said the government's plans to replace regular personnel with reservists were "on the rocks".
"Territorial Army numbers are at a low ebb, reserve recruitment targets are being missed, costs are rising, and there are delays and disorganisation," Mr Baron added.
The government wants to expand the Reserve Force, formerly the Territorial Army, to 30,000 by 2018 to help fill gaps left by cuts to the regular Army.
The Army will lose 17 major units as it cuts 20,000 regular soldiers by 2020, the coalition announced in 2012.
Labour lent its support to John Baron's signal of discontent.
Shadow defence minister Kevan Jones warned that "unless ministers change tack now we could have a situation in the not-too-distant future where the capability and defence of this country is at dire risk".
'Simplify'
Defence minister Mark Francois acknowledged "issues in the process" of boosting recruitment to the reserves and that the system was "too bureaucratic.
But he went on to say: "We are working with our recruiting partner Capita and the senior Army leadership to actively address these issues and I believe we can work through them, simplify the system and meet the objective.
"Remember, the key target is 30,000 trained reservists by 2018. We are two thirds of the way there."
Following the vote, a Ministry of Defence spokesman commented: "The Army is pulling out all the stops to ensure we deliver this new force."
Under the government's plans, four infantry battalions are expected to disappear - the 2nd Battalion the Royal Regiment of Fusiliers, the 2nd Battalion the Yorkshire Regiment (Green Howards), the 3rd Battalion the Mercian Regiment and the 2nd Battalion the Royal Welsh.
A fifth infantry battalion, the 5th Battalion the Royal Regiment of Scotland (Argyll and Sutherland Highlanders), will become a single company to carry out public duties in Scotland.
The Armoured Corps will be reduced by two units with the mergers of the Queen's Royal Lancers and the 9th/12th Royal Lancers and the 1st and 2nd Tank Regiments.