Housing benefit review is in progress, Clegg confirms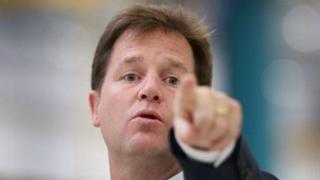 A government commissioned review by independent firms has begun into the impact of housing benefit changes.
Under reforms that took effect in April, council or housing association tenants of working age will lose some housing benefit if they are deemed to have more bedrooms than they need.
The independent review of the policy was promised when the bill became law.
Deputy Prime Minister Nick Clegg said it was "responsible" to check on how any new policy worked in practice.
In an exchange in the House of Commons on Tuesday deputy Labour leader Harriet Harman claimed that "for 96% of [affected] tenants, there is no smaller home to go to".
Mr Clegg told her: "Lots of wildly different figures have been cited about the policy's impact. That is why we are commissioning independent research to understand its impact.
"I suspect that it varies enormously between one part of the country and another, and one local authority and another."
He was asked about the review during his weekly phone-in on London's LBC radio, saying: "What I confirmed in the House of Commons is something that is not new, it's something that we announced back in March.
With a "big policy like this, it'd be irresponsible for a government to say 'oh well, it's happening' and not work out or try and assess how it's actually being implemented on the ground", he said.
"So we've commissioned a number of independent bodies to provide an ongoing review about exactly how it's unfolding on the ground. The picture is really quite unclear at the moment."
Nick Clegg's fellow Liberal Democrats signalled their dissatisfaction with the changes - called a bedroom tax by critics and a spare room subsidy by supporters - when they voted for a review of the policy at their party conference in September.
A government spokesman said: "The Department of Work and Pensions routinely commissions research on their new policies.
"The deputy prime minister was referring to evaluation work already being carried out by an independent consortium into this policy."
The research is being carried out by Ipsos-MORI and the Cambridge Centre for Housing and Planning Research, a division of the University of Cambridge.
The initial findings will be available in 2014 and the final report in late 2015, according to the Department of Work and Pensions.