MP Gloria de Piero: Call off the hunt for topless pictures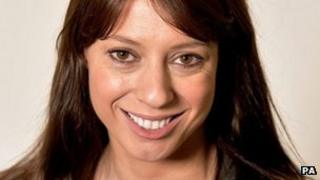 Gloria de Piero, the shadow minister for women and equalities, has accused a news agency of trying to obtain topless pictures of her taken when she was 15.
In a blog post, the Labour MP said the agency claimed to be acting on behalf of a national newspaper and was offering thousands of pounds to people who might have copies of the pictures.
She would find it "humiliating" if they were published, she told the BBC.
She had grown up in poverty and had posed topless for the money, she added.
"It's part of me, it's part of my life, it's part of my story," she told BBC Radio 4's Woman's Hour.
'Barking'
"I've got an amazing mum and dad, but after the age of about 10, no-one worked in my household due to my father's ill health.
"My parents had jobs, they never had careers, and they were very, very ambitious for their daughter to have a better life than them."
The Ashfield MP said she had played truant on days when pupils were able to wear their own clothes, because she was ashamed of her wardrobe.
"I wanted some money, like my friends," she said of her decision to pose topless.
"There are reasons why I thought that they might be a way out for me, but I would respectfully say that I hope they are not published.
"I would find it embarrassing, humiliating."
The existence of the pictures "says something about poverty, growing up in poverty", she added.
"I'm not going to be a victim here," she said, adding that she did not want to see politics full of people "who, at 15, are thinking 'Ooh, I might be a politician one day'".
"Goodness, if someone had suggested that to me, at 15, I'd have thought they were absolutely barking."
In her blog, she elaborated: "I don't think anyone wants politics to be open only to those people who were planning their political careers in their teens. I would like to see a politics that represents our country, including many more women from all walks of life, and that is something I am passionately committed to help bring about.
"No one should have to worry that something they did when they were young might prevent them from serving their community or getting involved in politics at a local or national level."
Ms de Piero concluded: "It is now time to call off the hunt for these pictures and let me get on with the job I was elected to do, representing the people of Ashfield and serving in the shadow cabinet."