Whitehall on cusp of 'data revolution' says civil servant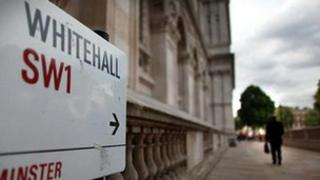 A senior civil servant has promised a "revolution" in the amount and quality of data published by government in the next two years.
Cabinet Office official Paul Maltby said information "rarely seen" outside of Whitehall would soon be available.
The "big prize" for Whitehall was to move to a default position of open data, he told a meeting in London.
The coalition government has insisted it is the most transparent in history in terms of releasing data.
Mr Maltby told a meeting organised by the Institute for Government that senior officials were looking for a "different mechanism" to encourage data transparency in government departments.
'Big stick'
In the past, he suggested officials had had to be chivvied along by a "big stick or a letter from the prime minister".
But he suggested that attitudes had changed in recent years and a more pro-active approach to what data could and should be released had transformed the culture of a number of departments.
He cited the departments of transport and work and pensions as examples of where progress had been made and looked forward to a day where information was published as a matter of course unless there was a reason not to.
"I don't think we are that far away. It is not a matter of weeks or months, but in the next 18 months or two years I think you will see a real difference in the quality and quantity of open data out there."
He added: "In not that much time, we will see a really great revolution in how data is available. Data rarely seen outside government will be available and can be seen seen outside government."
More than 9,000 data sets have been published since a new unit for open data and government innovation, which Mr Maltby heads, was set up in the Cabinet Office in 2011. Each department has also published its own data strategy.
'Killed off'
Julian McCrae, a former deputy director of the No 10 Strategy Unit, urged the media against over-interpretation and "dressing up" of raw data, saying there had to be a "grown-up debate" about the process.
In the past, there had been cases of "great data being killed off before it becomes great data", he said.
Mr McCrae, now deputy director of the Institute for Government, said Whitehall had a responsibility to work out what it was trying to achieve by releasing material and to provide "insight" as well as basic figures.
The Cabinet Office promised a "quantum leap" in transparency in 2011, with information about hospital complaints, school performance and court sentencing trends among details released for the first time.
Details of all local government spending above £500 and the salaries of the top earners in Whitehall were also released.
But Jeni Tennison, from the Open Data Institute, told the same meeting that the government must show more resolve as it was "astonishing" the amount of datasets published in 2010 and 2011 which had not been updated since.
Service providers and government contractors, as well as the public, were relying on out of date data, she said.