Theresa May: Diabetes won't change my life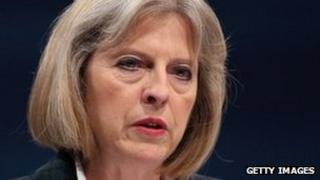 Home Secretary Theresa May has insisted she intends to continue living a "very normal life" after being diagnosed with diabetes.
The Conservative MP told BBC 5live that having regular insulin injections did not mean any "dramatic" change in her routine had been necessary.
Mrs May urged people feeling symptoms of the condition, such as tiredness and weight loss, to contact their GP.
About three million people in the UK have been diagnosed with diabetes,
An estimated 850,000 more have it, but are not aware of it, according to Diabetes UK.
The condition occurs where the amount of glucose in people's blood is too high because the body cannot use it properly.
Needles
This happens because the pancreas does not produce enough insulin, to help glucose enter the body's cells, or the insulin that is produced does not work properly.
Mrs May said politicians, working long hours, were used to suffering from tiredness, but she had started feeling worse towards the end of last year.
She told Shelagh Fogarty on BBC 5live: "I went to the doctor because I had a very bad cold for a few weeks and wasn't getting rid of it. I went to see if there was anything problematic there.
"They took a blood test and, as soon as they had the results, they came back and said 'You are diabetic.'"
It was later confirmed that Mrs May had Type One diabetes, meaning the body is unable to produce any insulin at all, and that it has to be injected instead.
"I've never had a hang-up about needles, which is a benefit," said Mrs May. "It's quite a knack when you have to start injecting, but you get used to a routine."
The home secretary has to inject herself twice a day but the frequency could be increased.
She urged other people feeling the way she had last year to see their GP: "The real problem is that the symptoms you get are quite easy to dismiss. The message is, if you have those symptoms, don't just dismiss them... get checked."
Mrs May added: "I'm fortunate I developed this condition later on in life. It must be really difficult for young children.
"You are able to live a normal life. This is not something that suddenly your life is going to have to change dramatically or stop you doing things other people can do.
"Schools and workplaces need to recognise this is something people can work with and manage and live a very normal life."