Deputy Speaker: Seven Conservative MPs to contest ballot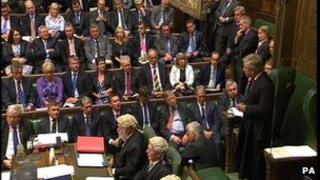 Seven MPs are to contest an election to become a deputy Speaker of the House of Commons after nominations closed.
Conservatives David Amess, Henry Bellingham, Brian Binley, Simon Burns, Nadine Dorries, Eleanor Laing and Gary Streeter will take part in the ballot on Wednesday 16 October.
All MPs may vote in the contest, triggered by Nigel Evans' resignation to fight sex offence charges.
The winner will work alongside Speaker John Bercow and two other deputies.
Only MPs representing parties in government are allowed to stand in order to maintain the party balance among those who chair debates and keep order in the House of Commons.
While Mr Bercow and Mr Evans are former Conservative MPs, the other two current deputy Speakers - Lindsay Hoyle and Dawn Primarolo - were previously Labour MPs.
Wednesday's secret ballot will take between 11.30 BST and 1400 BST, with the result being announced soon after.
Those wishing to stand had to have their nomination papers signed by at least six other MPs for them to take part in the contest.
Details of those MPs sponsoring each of the seven candidates have been published on the Commons website.
The election will be conducted under a system known as single transferable vote, where MPs will be able to list their preferred candidates in order of one to seven on the ballot paper.
If no candidate secures 50% plus one of the votes in the ballot, the candidate with the least votes will be eliminated and their preference votes re-distributed to other contenders. This process will continue until a winner emerges.
The deputy speaker's position carries a salary of £36,360. When this is added to their salary as an MP, the successful candidate will be paid £102,098 a year.
Ex-deputy Mr Evans resigned last month after being charged with two counts of indecent assault, five of sexual assault, and one of rape. He denies all the allegations.