Deputy Speaker contest: Best of seven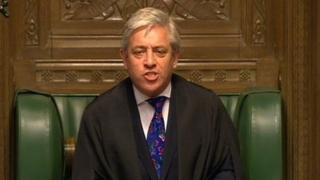 The seven contenders to be new deputy to Commons Speaker John Bercow have been making their final pitch to MPs. How did they get on?
"I don't think it is actually the most sophisticated electorate."
Oh no, what has she said now?
Nadine Dorries, the would-be queen of the celebrity jungle, has apparently just broken the first rule of the electoral jungle: Don't insult the voters.
But the voters, on this occasion, do not seem to mind.
The handful of MPs who have bothered to show up for this lunchtime hustings, in Commons dining room A (could it be known as Codra?), are having far too much fun to notice any slight from the MP for Mid-Bedfordshire.
This contest, which was triggered by the resignation of Nigel Evans to fight charges of sexual assault, is rare sport for veteran MPs and Westminster insiders.
John Bercow is not exactly popular among Conservative MPs, despite once being one himself.
Yet - due to Parliamentary rules and the fact that no Lib Dems have come forward - only Conservative MPs are taking part in the contest to be his next deputy. What could possibly go wrong?
Novel experience
One of the contenders, former Transport Minister Simon Burns, once called Mr Bercow a "stupid, sanctimonious dwarf". Does he think they'll be able to work well together?
It is true, explains Mr Burns, that the pair are not the best of friends.
But there is some hope. He recently saw a "Q&A" with Mr Bercow and students from Durham University, in the Northern Echo, in which the Speaker "seemed to be endorsing my position" by saying personalities do not matter.
It sounds like something of a long shot. But - pipes up Michael Fabricant - would a personal endorsement from Mr Bercow, if that is indeed what it was, actually help his candidacy?
Mr Fabricant was once touted as a possible contender himself.
But the Conservative backbencher is here in the role of semi-official jester instead, lobbing in one-liners and provocative questions, like he is back on Have I Got News for You.
Lib Dem veteran Sir Bob Russell provides similar "noises off" for the Lib Dems. There are few Labour MPs in sight.
That may be because they were all treated to a similar show on Monday, when the seven contenders appeared before the Parliamentary Labour Party.
Another curious fact about this strange contest is that to stand the best chance of winning, the Tory MPs taking part must convince Labour MPs to vote for them. This is a novel experience for most of them.
'Light touch'
Some took to Twitter on Monday evening to praise their Labour hosts, but it seems not everything was sweetness and light.
Addressing Labour MPs was a "surreal" and "highly awkward" experience, admits Gary Streeter.
Mr Streeter, like all of the contenders, stresses his competence - he would be the choice of a corporate head hunter, he explains - and impartiality.
Members of Mr Bercow's team are meant to rise above their political allegiances so they can preside over debates in the Commons in a fair-minded way.
The contenders all promise to stand up for the rights of backbenchers - to make sure their voices are heard so that they can hold government ministers to account.
Some, such as Brian Binley, go for the fun factor (having a sense of humour is part of the job description), promising a "light touch".
'Gut feeling'
David Amess joked that it would be nice to get a pay rise and a new suit, before declaring war on "pomposity" and revealing the loftier motive of "restoring respect to this place".
Eleanor Laing, suggests that, ultimately, MPs should vote with their "gut feeling".
Henry Bellingham, a descendant of the man who shot and killed Prime Minister Spencer Perceval, tried playing the personal redemption card.
"There is an awful stain on my family character," he tells the meeting, with just a hint of a smile. "Maybe in a small way I can help to put the record right 200 years on."
Mr Bellingham's odds have shortened dramatically from 16-1 to 4-1 in recent days.
Could this be, suggests host Paul Waugh, of politicshome, because Labour MPs like the idea of an old Etonian pillar of the establishment going up against Lindsay Hoyle, a salt-of-the-earth Labour man, when John Bercow stands down?
This kind of low political calculation will undoubtedly have an impact on Wednesday's secret ballot.
But it is probably preferable to picking a candidate at random, which is what Ms Dorries suggests some are doing.
She says one MP told her "I am voting for people in the order they ask me".
This is what Ms Dorries - who is basing her pitch, in part, on a war against expenses watchdog IPSA - means when she suggests some MPs are not taking the contest seriously.
"It is not a sophisticated electorate but it is incredibly complex," she tells the meeting.
"And may the best person win!"